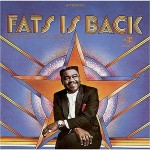 Reprise Records was one of the labels to be on in the 1960s. What started out as the house that Frank Sinatra built, chock full of releases by his cronies like Dean Martin and Sammy Davis Jr., turned into Mo's home when Sinatra sold the label to Warner Brothers in 1963, and Mo Ostin began to sign artists to the label. Ostin ran the label as a haven for artists, and under his aegis a hip cadre of musicians like Randy Newman, Joni Mitchell, The Kinks, Arlo Guthrie, Ry Cooder, Neil Young, T. Rex, Pentangle, Gram Parsons, Frank Zappa, Captain Beefheart, Gordon Lightfoot, Jimi Hendrix and many others, came on board.
Along the way, Reprise began to look into the not too distant past to revive a few careers, which brought both Little Richard and Fats Domino to the label. While neither artist delivered the hits that Reprise, no doubt had hoped for, they both cut terrific records for the label that came and went without a trace.
Richard Perry was brought on board as producer for Domino's "Fats Is Back," the first of his two Reprise albums. Perry surrounded Fats Domino with an all-star list of session musicians who were sympathetic to what Fats and Reprise were trying to achieve, which was to update his sound without changing too much of what made Fats a great artist. To that end, Fats was backed by King Curtis, Eric Gale, Larry Knechtel, Chuck Rainey, Hal Blaine, James Booker and Earl Palmer, with horn charts arranged by none other than Randy Newman.
Fats Is Back came out in 1968, and featured remakes of some of Domino's own hits including "I'm Ready," "Wait Till It Happens To You," and "One For The Highway." The album's opening track is called "My Old Friends" and begins with a medley of snippets of some of Fats' original hits, before fading into the new, up-to-date opening song that ends with the declaration that "Fats Is Back." The album also features Fats covering the Barbara George hit "I Know" (later remade by Bonnie Raitt), a version of James Booker's "So Swell When You're Well," and a couple of Beatles favorites– "Lovely Rita" and today's Song Of The Day, "Lady Madonna" – which was Domino's last chart hit.
It's no surprise that Domino would take a crack at "Lady Madonna," since Paul McCartney wrote the Beatles song in his style with an eye towards giving it to him to record.  And Fats does not disappoint with his version, and for that matter, the rest of the tracks on this essential album.