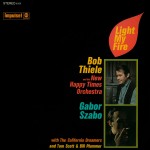 It was the year of Sgt. Pepper's and Are You Experienced. Rock was becoming jazzy…and jazz was taking on the current crop of rock greats. Hence today's Song Of The Day.
Credited to Bob Thiele and his New time Happy Orchestra with Gabor Szabo on guitar, here we have one of the great lost guitar jazz albums of the 1960s.
Just look at this line up!
You've got Bob Thiele who was head of Impulse Records between 1961 and 1969. Producer of such artists of great renown as John Coltrane, Dizzy Gillespie, Sonny Rollins, Archie Shepp, Albert Ayler, Sonny Rollins, Charles Mingus and many others. Gypsy guitar great Gabor Szabo laying out the slabs of psychedelic sound on the guitar, Bill Plummer on raga sitar, plus the sturdy backing of Wrecking Crew regulars Carol Kaye on bass, Mike Melvoin on keyboards and the drummer on hundreds of '60s rock singles, Jim Gordon on the drums.
But that's not all. Here we have the legendary Tom Scott on saxophone very early in his career. Scott and Szabo's interplay throughout this necessary platter is essential. And how can you beat the likes of then-current hits like "Light My Fire" by The Doors, The Byrds' "Eight Miles High," Simon & Garfunkel's "Fakin' It," and Bob Dylan's "Rainy Day Woman # 12×35" (with some of the corniest sixties vocals credited to The California Dreamers who soound very middle of the road and very Ray Conniff).
Capping things off is a Charles Lloyd cover "Forest Flower" and two very swinging Szabo originals, including "Sophisticated Wheels " and "Krishna" that provide the necessary raga interplay between Szabo and the rest of the ensemble.