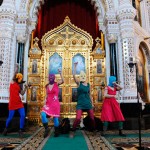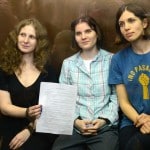 Pussy Riot – what they lack in musical aptitude, they surely make up with unbridled punk rock spirit. The merits of their talent or lack thereof, are totally beside the point anyway. Pussy Riot return punk rock to its purest essence: protest, entertainment and fashion.
Pussy Riot formed in Moscow in 2011 with an ever-changing lineup of young women numbering up to twenty different members. In essence, Pussy Riot is more movement than musical outfit, and the aforementioned style comes down to the brightly colored balaclavas they wear during performance to obscure their real identities.
Pussy Riot's brand of entertainment is known as guerilla performance, where the group members show up to perform in places specifically chosen to create outrage, in order to gain media attention and make a statement. Today's Song Of The Day, "Punk Prayer," is the performance that landed three Pussy Riot members in jail for the punk protest they staged in Moscow's very conservative Cathedral Of Christ The Savior on February 12, 2012. The video mixes raw footage of the actual protest with their studio recording called "Punk Prayer – Mother of God, Chase Putin Away!"
The performance and publicity that followed didn't play well in Putin's Russia and landed two of the group members, Nadezhda Tolokonnikova and Maria Alyokhina, in jail in March of 2012, charged with the crime of hooliganism. A third member, Yekaterina Samutsevich, was also arrested several days later in March. The young women were denied bail and held in custody until their trial began in late July.
Pussy Riot said their protest was a political statement, but prosecutors argued that the band was trying to "incite religious hatred" against the Orthodox Church. On August 17, 2012, the three members were convicted of hooliganism motivated by religious hatred, and each was sentenced to two years imprisonment.
Samutsevich was released from prison a few months later (in October of 2012) after her lawyer successfully argued that she didn't actually participate in the demonstration because security did not permit her to enter the church. Alyokhina and Tolokonnikova remain in prison where they have been met with a fair amount of disdain by the prison population. (Two other Pussy Riot members managed to escape prosecution and left the country.)
Russian political rights activists see Pussy Riot's imprisonment as politically motivated, and sentiment within Russia, and indeed the rest of the world, has been met with equal amounts of disdain for Putin's Russia.
While in jail, members of Pussy Riot continued to stage guerilla performances and  released a video called Like A Red Prison (http://www.youtube.com/watch?v=qOM_3QH3bBw) filmed at a Russian oil refinery, although both Alyokhina and Tolokonnikova have denied that the video was an official Pussy Riot performance.
For more information on Pussy Riot, check out the excellent HBO documentary Pussy Riot; A Punk Prayer, directed by Mike Lerner and Maksim Pozdorovkin, or go to http://freepussyriot.org/about on line.