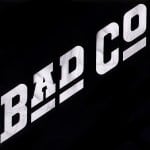 I was a rock snob during the 1970s and 1980s. I admit it, and for those that know me well, this revelation should come as no surprise. I loved prog rock, some southern rock, glam rock and glam's second cousin disco. I had little tolerance for what I'll term meat 'n' potatoes "dumb-ass" rock.
As a result, I missed out on huge hit albums by Boston, Kiss and Bad Company, to name but a few. However, over the years I've come to appreciate the early albums by all three bands. (For some unexplained reason, I always liked BTO, and still do.)
During the '80s, I took a pass on most of the hair metal (Poison, especially) and records by Foreigner, Def Leppard, Whitesnake and REO Speedwagon. I pretty much still hate those bands.
Bad Company was yet another supergroup featuring Paul Rodgers (vocals) and Simon Kirke (drums) from Free, Boz Burrell (bass) from King Crimson and Mick Ralphs (guitar) from Mott The Hoople. (King Crimson's Mel Collins also plays saxophone on the album.) The group's secret weapons were Paul Rodgers who had perhaps one of the greatest lead-singer voices in all of rock music and the crunchy guitar work of Mick Ralphs.
Being seasoned musicians, they knew their way around the business and approached Led Zeppelin manager, Peter Grant to handle them. He, in turn signed them to Zeppelin's Swan Song record label in the U.S. (they were signed to Island everywhere else.) Their association with Zep's record label also gave them added credibility on these shores.
Their sound was about as formulaic as you can get, and with each successive album they released, the songs became more and more generic, however their self-titled platinum chart topping debut album is a stunner. Like many of the biggest albums from the era, the cover was designed by Hipgnosis, but unlike most of Hipgnosis' designs, they went for a stark and simple, straight-up branding approach for Bad Company rather than going psychedelic or surreal as they did for Pink Floyd, et al.
Today's Song Of The Day is one several power ballads on the album. It was originally recorded by Mott The Hoople on their 1972 All The Young Dudes album. While I think that Mott's glammed up version of the song is still better, Bad Company's version does feature some really nice piano work courtesy of Ralphs and it is still one of the strongest cuts on the album.
The album included two chart singles, "Can't Get Enough" (#5/1974) and "Movin' On" (# 19/1974), but included a clutch of album tracks that have become staples of classic rock radio including the "Rock Steady," the title track and today's Song Of The Day.
This album also is one of a handful of albums where the name of the band is shared with the name of the album and also the name of a song on the album (i.e. "Bad Company" from Bad Company by Bad Company). I know of only a few others like that, and "Black Sabbath" by Black Sabbath from Black Sabbath immediately comes to mind.
My one and only attempt at being in a band was in middle school. The band was called Toxic Angel and I was the lead singer. The only song we ever attempted to play was "Can't Get Enough" by Bad Company because it was so easy to pull off.  In fact, my bright and shining moment of rock star glory was when we performed the song during our 8th grade talent show in middle school. (We didn't win.)
Straight Shooter, the follow-up album, was just as strong as the debut and spawned two more indelible singles in "Good Lovin' Gone Bad" (#36/1975) and "Feel Like Makin' Love" (#10/1975). From there it was all downhill with each successive album being more generic than its predecessor.