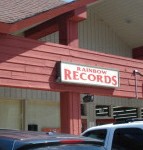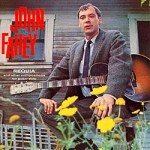 I buy most of my music these days on line. I either purchase from Amazon where I can take advantage of free shipping, eBay where I can score clean copies of used records or directly from record labels like Polyvinyl and Third Man Records.
Earlier today I got a rush and went down to a small independent record store in Barrington, Illinois called Rainbow Records with my friend. I had been to Rainbow once before on Black Friday Record Store Day and thought the store was pretty cool, so I made a mental note to come back again sometime.
Rainbow Records is owned by a fellow record geek named John Thominet, who is the fifth owner of the store that began in the 1970s. While there, I picked up a few used records including Tim Buckley's first album (which I've never owned on vinyl) and a 1970 live double album by The Butterfield Blues Band. I also purchased The Rolling Stones' "Some Girls Live" (Houston Texas 1978) which is seeing its first release on vinyl, and a reissue of John Fahey's 1968 album "Requia and other compositions for guitar solo."
I had been interested in the Fahey album, because I love his solo guitar playing and it also includes an experimental four-part piece called "Requiem For Molly" which takes up most of side two and is not unlike The Beatles' "Revolution No. 9" with solo guitar interspersed throughout the montage. Today's Song Of The Day is the album's lead-off track that pays tribute to Mississippi John Hurt, who had at the time recently passed away. John Fahey on this track: "He was in his quiet way, a very great man, and I deeply mourn our loss of him. So, I wrote this requiem for him, about him, but I play it the way Charley Patton would have played it."
But I got a lot more than records during my visit to the store…I got a great atmosphere and the feeling of community (similar to that of our weekly vinyl gathering at a local bar), but in a record store setting with people of all ages. There were a couple of teenagers at the store who were buying records that I generally take for granted because I've had them for so long. Through their eyes, records like an original pressing of Steely Dan's "Can't Buy A Thrill" and The Clash's "Sandinista" were real finds. I really dug the genuine enthusiasm coming from these young record collectors…they reminded me of…well, me…
With the store's owner and my buddy John also chiming in on the conversation, we were having a great time together. And with prices that are comparable to what I normally spend on eBay for records, that feeling of community, my friends, is something you can't possibly get on line.