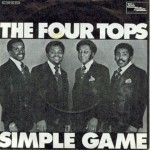 Today's Song Of The Day could have only happened in that strange and mystical place where the worlds of The Moody Blues and The Four Tops intersect.
"Simple Game" was originally the B-side to the Moody Blues' 1967 single "Ride My See-Saw." The song was written by Michael Pinder, and didn't appear on a Moody Blues album until the two record compilation This Is The Moody Blues in 1972.
Moody Blues' producer Tony Clark went to see the Tops in England and approached them with a demo of the song. The group didn't know who Clark was, but liked the song and agreed to record it in England with Clark producing. The track was recorded on May 5, 1970, and The Four Tops' backing band on this record was none other than an uncredited Moody Blues!
Two other tracks were recorded during the session with The Moody Blues backing, including "You Stole My Love" (another Moody Blues tune co-written by Tony Clark and Justin Hayward) and "So Deep Within You." Neither track saw a U.S. release until The Four Tops box set Fourever in 2001; however "So Deep Within You" was used as the B-side to today's Song Of The Day in England.
The single was arranged by Arthur Greenslade who had much success arranging hits for Dusty Springfield and Tom Jones. It climbed to #34 on the R&B charts and #90 on the pop charts, but did much better in England where "Simple Game" was a #3 hit single.
Strange bedfellows make great music, indeed.