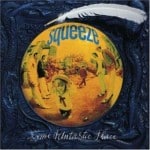 Cool For Cats, Argybargy, East Side Story, Sweets From A Stranger and Cosi Fan Tutti Frutti — all of the above named albums are among the best records in the Squeeze catalog. For unknown reasons, Some Fantastic Place is a Squeeze record that stands head and shoulders tall amongst the others, but seldom gets mentioned in the same breath. Today, I officially add this album to the list of all-time great Squeeze albums, and if you're a fan, so should you.
Some Fantastic Place was the band's tenth album released in 1993. It was the follow up to the album Play, which was possibly the weakest album in their entire catalog. The album saw the return of Paul Carrack to the ranks after an eleven year hiatus, but sadly also saw the departure of drummer and original member Gilson Lavis, who was replaced by Pete Thomas of Elvis Costello and The Attractions. The album was also a return to A&M Records, the group's longtime record label after a failed release on Reprise.
"There have been several "golden ages" of popular songwriting. For many listeners…the golden age of the pop song was the 30's and 40's, when writers like Jerome Kern and Cole Porter were at their zenith. Fans who are somewhat younger might point to the 50's, when Chuck Berry, Otis Blackwell and the team of Jerry Leiber and Mike Stoller wrote enduring anthems to youth…Then there are the mid-60's, when Lennon and McCartney of the Beatles, Ray Davies of the Kinks, and Jagger and Richards of the Rolling Stones stretched the limits of pop song forms while creating some unforgettable melodies and literate, allusive lyrics…any list of today's first-rate songwriters should include Mr. Difford and his partner, Glenn Tilbrook." – Robert Palmer in The New York Times
The comparison of Difford and Tilbrook to the above named artists is not so farfetched. Chris Difford and Glenn Tilbrook have had a long running track record of composing strong songs with sophisticated lyrics, memorable melodies, relatable story lines and great harmonies. As was the case with Lennon and McCartney before them; the whole was way more than the sum of the parts with Difford and Tilbrook.
Together, the songwriting team composed some of the greatest pop songs of the late '70s and 1980s: "Tempted," "Pulling Mussels (From A Shell)," "Separate Beds," "In Quintessence," "Is That Love," "Up The Junction," "Another Nail In My Heart," "Cool For Cats," "I Learned How To Pray," to name but a few… even though they didn't place many of them up the charts. Apart, their solo recordings didn't amount to much, except to point out how much they needed each other's input.
Today's Song Of The Day is perhaps one of Difford and Tilbrook's most personal songs: Difford: "'Some Fantastic Place' is an example of a very personal song. It's about a friend of mine and Glenn who died of cancer. She was very responsible for Glenn and I sort of sticking together as friends since I was a kid." Tilbrook: "She was my first proper girlfriend whom I loved very much, and she contracted leukemia. Throughout her illness she was very positive in her outlook and never lost her sense of optimism." They have both said in interviews that it is also one of their all-time favorites of the songs they've composed.
Nobody does groveling better than Squeeze! Case in point is the song "Cold Shoulder" which finds the song's protagonist with his head in the cat flap on the door: "My head was stuck in the cat flap on the door / Where I could see her walking on the kitchen floor / Down on my knees just like a dog / Begging for scraps that she said she hadn't got / She took her pen, she poked me in the eye / As through the lock I looked to see my world inside / I kicked and swore, void of all brain / I couldn't see that I was the one to blame."
And, no Squeeze album would be complete without a few failed relationships as in the song "It's Over" – "Hey wait a minute, that's not right / I didn't want this to cause a fight / All I'm saying is nothing new / Listen to me, believe it's true / What's there to hide, it baffles me / Throw out those thoughts of jealousy / So don't you cry and hold your head / It's over."
Elsewhere, Difford sums up lost love in the song "Images Of Loving" in terms of the records that are left behind: "Your initials on the singles / That you chose to leave behind / Sit in my collection / They get played from time to time / Left to remind me of something I'd forgot / The images of loving before I lost the plot."
Elsewhere on the record, lightning fails to strike twice with the song "Loving You Tonight," which is a direct rewrite of Squeeze's signature hit "Tempted," complete with predominance of organ and horns and Paul Carrack taking the lead vocals on the track. The album's first single "Third Rail" also deserves mention as a highlight, and it was also the first Squeeze single to crack the top forty (in the UK) in six years.
Squeeze would go on to release two more studio albums (Ridiculous and Domino) before ceasing to be a recording entity in 1999. A touring version of Squeeze reunited in 2007 and continues to play shows around the world today.