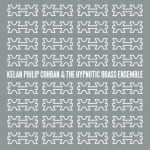 If you love tuba solos, they're here. How about exotic string instruments like zithers and kalimbas? Check, they're in abundance. Funky, funky brass? Present and duly accounted for. Exciting music like you've never heard before? Look no further than the welcome return of Kelan Philip Cohran and his latest group, The Hypnotic Brass Ensemble.
Cohran played trumpet, zither and other string instruments with Sun Ra Arkestra from 1959-1961, performing on their albums "Interstellar Low Ways" (1959), "Holiday for Soul Dance" (1960), "Fate in a Pleasant Mood" (1960) and later guesting on the record "Angels and Demons at Play" (1965). He initially came into Ra's orbit through a gig he had playing at private parties thrown by Sarah Vaughan.
When the Arkestra moved to New York, he chose to stay in Chicago where he founded a non-profit organization called the Association for the Advancement of Creative Musicians (AACM). The AACM was co-founded in Cohran's living room along with Pete Cosey, who would go on to join Earth Wind & Fire, and "Master" Henry Gibson who played percussion on hundreds of recordings by the likes of Curtis Mayfield, Donny Hathaway, Kool And The Gang, Staple Singers, Rotary Connection and many others.
He recorded the album "On The Beach" in 1960 with his group the Artistic Heritage Ensemble, which included Pete Cosey and Maurice White among its ranks. Around this time he invented the Frankiphone (aka The Space Harp), an electrified kalimba, which was a big influence on Maurice White who featured lots of kalimba in the recordings of Earth Wind & Fire. Cohran then pretty much stopped recording in favor of teaching music in schools and prisons.
And it wasn't until last year that he put together the Hypnotic Brass Ensemble consisting of 4 trumpets, 2 trombones, 1 euphonium, a sousaphone and drums. Eight of the nine members of the group are Cohran's sons, whom while growing up were given music lessons every day for several hours in the morning, and then again every night. The practice paid off handsomely in the very deep grooves of this record.
With a fresh and funky sound that belies Cohran's 85 years, the Hypnotic Brass Ensemble mix moving tuba lines, circular percussion workouts and lots of violins, harps and koras, giving the extended tunes on this album their backbone, especially on today's Song Of The Day, the aptly titled "Spin."
While he's not playing music with his family, Cohran is also a renowned astronomer and presently teaches voice and music to inner city youth and adults at Northeastern Illinois University's Center for Inner City Studies.