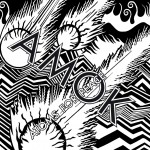 The first thing that grabs you is the rhythm – jittery, squiggly, purely wiggy and totally glitchy rhythm. Rhythms that don't make you dance, but do make you move. The ghost of Talking Heads' Remain In Light lives here. Their fingerprints are all over songs that have been built up from rhythm. They inhabit the nine tracks that make up Amok, the first official album by Atoms For Peace.
Atoms For Peace consists of Radiohead lead singer Thom Yorke, Red Hot Chili Peppers bassist Flea, longtime Radiohead producer Nigel Godrich (keyboards, synths), Joey Waronker of Beck & R.E.M.  on drums and Brazilian instrumentalist Mauro Refosco on percussion. The group bonded over their shared love of Afrobeat music and Fela Kuti, although you'd be hard pressed to feel the influence in the electronic jitter within.
They originally assembled back in 2009 when Yorke decided to take his first solo record, The Eraser out on the road. Back then the group went by the awkward monikers "??????" or "Thom Yorke????" depending on where they performed. Now they're known by the also-awkward moniker "Atoms For Peace," named after a song from The Eraser which took its name from a 1953 speech made by President Dwight D. Eisenhower.
Recording began in 2010, with Yorke assembling the band to share his laptop experiments. They then jammed on top of Yorke's rhythm tracks and shaped the extended jams they captured on tape into songs by editing the pieces; much like Miles Davis and Teo Maceo did back in the day while creating masterworks like Bitches Brew and In A Silent Way. Except, Amok is no Bitches Brew or In A Silent Way…
My first impression of the record is that this is dance music you can't dance to. Nothing really sticks. The songs are merely patches of sound and rhythm with Yorke's barely intelligible falsetto floating in and out of the proceedings. Just when the tracks seem like they are ready to cut loose, they evaporate into the ether. Yorke seems like he's a guest in his own band, a band with Flea firmly in charge anchoring the songs as best he can.
Some of the tracks rise above the textural density upon repeated plays revealing hints of melody, including the album's opener, "Before Your Very Eyes," "Stuck Together In Pieces" which is held together by Flea's bass loops, and "Default" which sound like an outtake from David Byrne's Music from the Catherine Wheel. "Dropped" and the record's first single "Judge, Jury and Executioner" most resemble traditional song structures, and as a result are the most satisfying tracks here.
Best song of all isn't even on the album! In their infinite wisdom, all of videos from Amok have been removed from YouTube. However, today's Song Of The Day, "What The Eyeballs Did" is an outtake from the album that is easily better than everything that made it onto the album. When Atoms For Peace announced the release of the record in December, the song was included on the band's website as a hidden Easter Egg. Happy Hunting!
So what we have is a somewhat flat headphone album you can get totally lost in. These tracks will no doubt explode when performed live on tour later this year.