On this episode of The Award Winning 3D RadioActivity we are continuing our recent musical theme.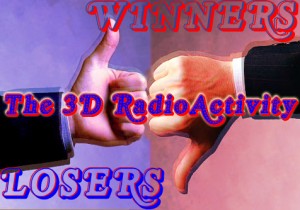 We have heard songs about games, tunes about The Olympic events and other sports were the focus last time, and now we have started with Win or Lose for the fortunate and for those who aren't as lucky.   It's tough to lose, however they do say that it only makes you stronger. Winning isn't always pretty, because Sometimes you win, sometimes you lose, sometimes it's a draw.  27 songs, almost 100 minutes of music!
I want to thank Radio Dave with Liner Notes, Steve, proprietor of Acid Flashback, Bob from Vinyl Schminyl Radio, and Bart who does Time Warp Radio, and Zecom Radio's Marty because they all gave me an attaboy on reaching the 150th show last week.
[jwplayer mediaid="5569″]