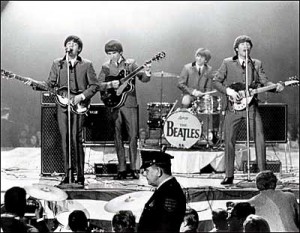 1966, The Beatles played their last concert before a paying audience, at Candlestick Park in San Francisco, California to a sold-out crowd of 25,000. John and Paul, knowing what the fans do not, bring cameras on stage and take pictures between songs. Songs performed at the show were "Rock and Roll Music", "She's a Woman", "If I Needed Someone", "Day Tripper", "Baby's in Black", "I Feel Fine", "Yesterday", "I Wanna Be Your Man", "Nowhere Man", "Paperback Writer", and "Long Tall Sally." Much of the existing film footage of the concert was captured in color by a 15-year-old Beatles fan, Barry Hood.
1967, The Who performed at Municipal Auditorium, Atlanta, Georgia.
1969, During a North American tour Led Zeppelin played the first of two nights at the Singer Bowl Music Festival in Flushing Meadow Park.
1970, Edwin Starr started a three-week run at number one on the US singles chart with "War," his only number one.
1970, Led Zeppelin, The Youngbloods, Iron Butterfly and The Ides of March all appeared at the Man Pop Festival, Winnipeg, in Canada.
1970, Grand Funk Railroad, David Allan Coe, The Third Power played at The Warehouse in New Orleans, Louisiana.
1973, John McLaughlin appeared at Maple Leaf Gardens, Toronto.

1975, ZZ Top performed at Arrowhead Stadium, Kansas City
1976, Jimmy Reed died in San Francisco following an epileptic seizure just before his 51st birthday. Reed influenced artists such as Elvis Presley, Eric Clapton, Billy Gibbons, Hank Williams, Jr, Stevie Ray Vaughan, Jerry Garcia and the Rolling Stones.
1976, The Sex Pistols supported by The Clash and The Buzzcocks appeared at The Screen On The Green, London, England.
1977, AC/DC appeared at the fabled Whisky A Go-Go in Los Angeles.
1977, Three people were arrested in Memphis after trying to steal Elvis' body. As a result, his remains would be later moved to Graceland.
1980, The Grateful Dead played the first of two nights at the Spectrum in Philadelphia, Pennsylvania.
1981, The two day Rock on the Tyne festival began in Gateshead, England, featuring Ian Dury, Elvis Costello, U2, Rory Gallagher, Doll By Doll, Wang Chung, Becket, Dr Feelgood, The Gingers Nutters (featuring Ginger Baker), Trimmer and Jenkins and Lindisfarne.
1981, The Allman Brothers Band performed at Memorial Hall in Kansas City, Missouri.
1982, The Charlie Daniels Band appeared at Merriweather Post Pavilion, Columbia, Maryland.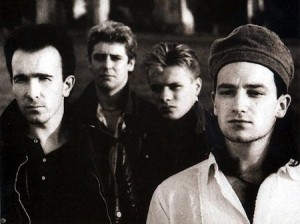 1984, U2 kicked off their Unforgettable Fire World Tour at Christchurch Town Hall in New Zealand, the first of 19 shows in Australia and New Zealand.
1987, Def Leppard scored their first UK number one album with Hysteria, which also became a chart topper in the US in July the following year, after spending forty-nine weeks working its way to the top.
1987, Los Lobos started a three week run at number one on the US singles chart with "La Bamba." It was also a number one hit in the UK. The song came from film of the same name, a biopic of singer , songwriter, guitarist Ritchie Valens, who died in the 1959 plane crash that also claimed the lives of fellow musicians Buddy Holly and J. P. "The Big Bopper" Richardson, as well as pilot Roger Peterson.
1991, DJ Kurt St. Thomas from radio station WFNX in Boston gave Nirvana's album Nevermind its world premiere by playing the album from start to finish.
1994, Oasis released their debut album Definitely Maybe, which went straight to number one in the UK Albums Charts on initial release. It was the fastest selling debut album of all time in the UK when it was released and went on to be certified 7x Platinum (2.1 million+ sales) by the BPI. Definitely Maybe marked the beginning of Oasis' success in America, selling over one million copies there, despite only peaking at 58 on the Billboard 200. The album went on to sell over 10 million copies worldwide and brought widespread critical acclaim.
2005, 77-year-old Fats Domino was rescued from the flooding in New Orleans caused by Hurricane Katrina. He had earlier told his agent that he planned to remain in his home despite the order to evacuate.
Born on August 29: Dick Halligan Keyboards, flute, vocals, Blood Sweat & Tears (1943); Chris Copping, Procol Harum (1945); Dave Malone, singer-songwriter , guitarist, The Radiators (1952); Rick Downey, Blue Oyster Cult (1953); Elizabeth Fraser, vocals, Cocteau Twins(1958); Michael Jackson (1958); Anton Newcombe, singer-songwriter, guitarist, The Brian Jonestown Massacre (1967); Alex Griffin, Ned's Atomic Dustbin (1971); Kyle Cook, singer-songwriter, guitarist, Matchbox 20 (1973)