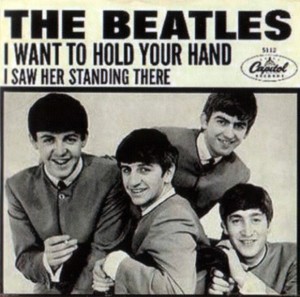 1964, The Beatles started a seven week run at number one on the US singles chart with "I Want To Hold Your Hand," the first US chart topper by a UK act since The Tornadoes "Telstar" in 1962 and the first of three consecutive number ones from the group.
1964, Peter, Paul & Mary performed at the Civic Center in Charleston, West Virginia.
1965, James Brown recorded "Papa's Got A Brand New Bag" in Charlotte, North Carolina. It which will reach number eight on the Billboard Pop chart and number one on the R&B chart the following August.
1967, The Jimi Hendrix Experience played at Cellar Club in South Shields, Tyne and Wear, England.
1967, At Abbey Road studios in London, The Beatles recorded the rhythm track to  "Sgt. Pepper's Lonely Hearts Club Band" in nine takes.  Ringo was on drums, George and Paul were on electric guitar, and ironically John played bass. McCartney came up with the idea of making Sgt. Pepper's a fictitious band and a concept album during a flight from Kenya back to England the previous November.

1967, Pink Floyd spent the day recording parts for the Syd Barrett songs "Arnold Layne" and "Candy And A Current Bun" at Sound Techniques Studios, Chelsea, London. Floyd also turned professional on this day after signing a deal with EMI Records.
1968, The Who kicked off their third North American tour at the Civic Auditorium San Jose, California
1968, John Lennon ships his Rolls Royce to the U.S.
1968, The Doors announce that Universal has offered them a $500,000 movie contract. They also claim a book of Jim Morrison's poems and a joke book by the entire band are on the way.
1969, Tommy James and the Shondells started a two week run at number one on the singles chart with "Crimson And Clover," the group's second and last chart topper.
1969, Led Zeppelin supports Iron Butterfly at the Fillmore East concert hall in New York. As Butterfly drummer Ron Bushy plays his lengthy solo on "In-A-Gadda-Da-Vida," John Bonham launches a stage invasion, upsetting several Atlantic Records executives in the audience.
1970, The Grateful Dead and Fleetwood Mac played a "Bust Fund" benefit at the Warehouse in New Orleans, to raise money for their arrest on January 31st. The incident is immortalized in the song "Truckin." Peter Green from Fleetwood Mac joined them for the song "Turn On Your Love Light."
1970, The Allman Brothers Band appeared at County Hall in Charleston, South Carolina.
1971, Yes appeared at the Palais des Sports in Paris.
1972, Chuck Berry had his first UK number one single with a live recording of a song he'd been playing live for over 20 years, "My Ding-a-Ling." UK public morality campaigner Mary Whitehouse attempted to have the song banned due to its innuendo-laden lyrics. The Average White Band members guitarist Onnie McIntyre and drummer Robbie McIntosh played on the single.
1972, Jethro Tull played at the Palaeur, Rome, Italy.
1974, Black Sabbath performed at the Civic Arena, Pittsburgh, Pennsylvania.
1975, Pilot were at No.1 on the UK singles chart with "January," the Scottish group's only chart topper. The song was a number one hit in Australia for eight weeks
1975, Neil Sedaka had his second US chart topping single with "Laughter In The Rain," over 12 years after his last number one song, "Breaking Up Is Hard To Do."
1977, Aerosmith appeared at Nagoya City Kokaido, Nagoya, Japan.
1978, Eric Clapton performed at PNE Coliseum, Vancouver.
1979, Sex Pistols bassist Sid Vicious was released on bail after attacking Todd Smith, singer Patti Smith's brother, at a Skafish concert. John Lydon has since stated that Mick Jagger stepped in and paid for the lawyers for Vicious.
1980, ZZ Top played at the McNichols Sports Arena, Denver, Colorado.
1986, The second single from Pete Townshend's solo album White City, "Give Blood"/"Magic Bus (live)" is released. The 12″ version also has "Won't Get Fooled Again (live)." The single fails to chart.
1986, Music publisher Dick James died of a heart attack aged 65. Worked with many UK 60's acts including The Beatles. James signed Elton John and his lyricist Bernie Taupin as unknown artists in 1967, and was the founder of the DJM record label.
1995, Richey Edwards guitarist with the Manic Street Preachers vanished leaving no clues to his whereabouts. He left The Embassy Hotel in London at 7am, leaving behind his packed suitcase. His car was found on the Severn Bridge outside Bristol, England sixteen days later. Edwards has never been found, despite constant searching, and in November 2008 he was declared officially dead.
1996, The John Entwistle Band continue their Left For Dead tour of the U.S. performing at Club Bene in South Amboy, New Jersey
2012, Don Cornelius, the host of US TV's Soul Train, (from 1971 until 1993), who helped break down racial barriers and broaden the reach of Black culture, died. Police officers responded to a report of a shooting at 12685 Mulholland Drive and found Cornelius with an apparent self-inflicted gunshot wound to the head. He was 75.
Born on February 1: Bob Shane, Kingston Trio (1934); Don Everly (1937); Jimmy Carl Black, Frank Zappa's band (1938); Rick James (1948) and Mike Campbell, Tommy Petty & the Heartbreakers (1954); Lisa Marie Presley (1968)