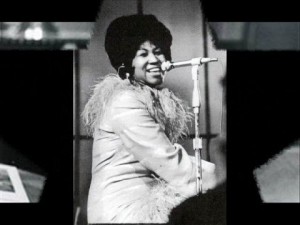 1967, Aretha Franklin records a cover of Otis Redding's "Respect"at Atlantic Studios in New York. It would become a number one US single in June.
1967, The Doors play the Whisky A Go-Go in Los Angeles.
1967, Jimi Hendrix appeared at Gray's Club in Tilbury, Essex, England.
1968, Manfred Mann were at number one on the UK singles chart with their version of the Bob Dylan song "The Mighty Quinn." It was a number ten hit in the US.
1968, Drumming up some publicity, Frank Zappa announces he's working on two films with his Mothers of Invention. Uncle Meat doesn't see the light of day until 1987, while a proposed Japanese monster movie never comes to fruition.
1969, The Grateful Dead perform at the Electric Factory in Philadelphia, Pennsylvania.

1970, The compilation album Motown Chartbusters Vol. 3 went to number one on the UK chart, featuring Diana Ross and The Supremes, Stevie Wonder, The Temptations and The Four Tops.
1970, Pink Floyd performed at King's Hall, Stoke-on-Trent, England.
1970, The Who appeared at Leeds University, England. The show was recorded for the band's forthcoming Live At Leeds album. The University of Leeds refectory, has now been named a national landmark in the UK, commemorated with a blue plaque.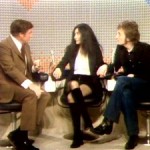 1972, John Lennon and Yoko Ono started a week long run as co-hosts on the Mike Douglas TV show.
1973, David Bowie collapsed on stage during a concert at Radio City Music Hall in New York City.
1974, Daryl Dragon and Toni Tennille (of Captain And Tennille) married in Virginia City, while on a promotion tour of the States. They divorced in 2014.
1974, Keith Moon flies back to London to play drums at an all-star Roy Harper concert at The Rainbow. Jimmy Page, David Bedford, and John Bonham also take part under the band name Interglactic Elephant Band. Part of the show is later released as the Roy Harper album Flashes From The Archive Of Oblivion.
1975, Rush played at Wilfrid Laurier University, Waterloo, Ontario, Canada.
1977, Singer songwriter Janis Ian received 461 Valentine's day cards after indicating in the lyrics of her song "At Seventeen," she had never received any.
1977, The B-52's made their first live performance, appearing in a Greenhouse at a Valentines Day party in Athens.
1979, Dire Straits performed at the Rosengarten, Mannheim, Germany.
1980, Blue Oyster Cult played at Agricultural Hall, Allentown, Pennsylvania.
1986, Frank Zappa appeared on an episode of the television series Miami Vice. Zappa portrayed a crime boss named "Mr. Frankie."
1987, Bon Jovi started a four week run at number one on the US singles chart with "Livin' On A Prayer," the group's second US number one, a number four hit in the UK.
1989, Keyboard player Vincent Crane died. He was a member of The Crazy World of Arthur Brown, and Atomic Rooster.
1992, The film Wayne's World, which featured appearances from Meat Loaf and Alice Cooper, premiered in the US. The use of Queen's "Bohemian Rhapsody" in the film propelled the song to number two on the US singles charts nearly 20 years after its first release.
1994, The Grateful Dead's Jerry Garcia married movie maker Deborah Koons.
1995, Rapper Tupac Shakur was sentenced to one-and-a-half to four-and-a-half years in prison on a sexual abuse charge. He was later released on appeal.
1999, Lenny Kravitz scored his first UK number one single with "Fly Away," a number twelve hit in the US. The track had been used on a TV ad for cars.
2002, Mick Tucker, drummer with glam rock band Sweet, died of leukemia.
2003, Stolen reel-to-reel studio recordings by The Beatles were found in Australia. Police recovered the tapes of the White Album and Abbey Road, after they were advertised for sale in a Sydney newspaper. Australian police had been tipped off by British detectives from Operation Acetone, an investigation into thefts of original Beatles music from Abbey Road studios in London in the 1960's.
2007, Winners at the 27th annual Brit Awards at London's Earls Court included Muse, who won Best British Live Act, British Breakthrough Act went to The Fratellis. Winner of the Best International Breakthrough Act was Orson. Take That won the first-ever live vote, when they took home the Best British Single for "Patience." Arctic Monkeys were named Best British Group, James Morrison was named Best British Male and Amy Winehouse won Best British Female. Justin Timberlake won Best International Male, and Nelly Furtado won Best International Female. The Killers won Best International Group and Best International Album for Sam's Town and Oasis won the Outstanding Contribution to Music Award.
2009, Bruce Springsteen went to number one on the US album chart with Working on a Dream, his sixteenth studio album.
2010, Doug Fieger singer, songwriter with The Knack died after a long battle with cancer. The Knack had the 1979 US number one and UK number six single "My Sharona," which he wrote for Sharona Alperin, who later became his girlfriend.
Born on February 14: Maceo Parker, sax, Parliament-Funkadelic (1943); Vic Briggs, The Animals (1945); Doug Simiril, piano, Steve Miller Band (1946); Tim Buckley (1947); Rob Thomas, Matchbox 20 (1972)