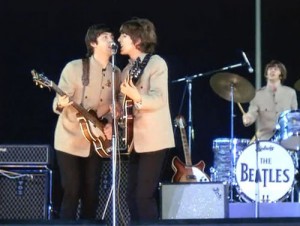 1965, The Beatles Story, yet another US-only collection of Fab Four releases, goes to number seven in the album charts. The Beatles are currently number one in the singles charts with "I Feel Fine."
1966, "We Can Work It Out" by the The Beatles takes over the top spot from Simon & Garfunkel's "Sounds of Silence." It remains for two weeks, then falls to second once again behind "Sounds of Silence," after which it reclaims the top spot for one more week.
1968, The entire shipment of John and Yoko's album Two Virgins was seized by authorities in New Jersey due to the full frontal nude photograph of the couple on the cover. The album was eventually wrapped in plain brown paper in record stores.
1969, Led Zeppelin played the first of four nights at the Whisky A Go-Go, Los Angeles during the band's first North American tour. Support group was the Alice Cooper band.
1969, Filming began at Twickenham studios in England of The Beatles rehearsing for the Let It Be album. The project ran into several problems including George Harrison walking out on the group on January 10th.

1970, Poco appeared at the Terrace Ballroom in Salt Lake City, Utah.
1971, The George Harrison album "All Things Must Pass" started a seven week run at number one on the album chart, making Harrison the first solo Beatle to score a US chart topping album.
1972, Syd Barrett plays an unannounced solo gig at King's College Cellar, Cambridge.
1973, Led Zeppelin performed at City Hall in Sheffield, South Yorkshire, England.
1974, US country singer, actor and radio presenter Tex Ritter died of a heart attack when he was trying to bail a member of his band from a jail in Nashville. His song "High Noon" won an Oscar for Best Song in 1952.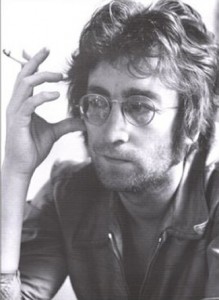 1975, In efforts to defend himself from deportation, John Lennon and his lawyers are granted access to Department of Immigration files. The pop star wants to find out if he's been barred from the US because of drug use, or his remarks about President Richard Nixon.
1976, Bad Company, Nazareth, Ronnie Lane's Slim Chance, The Pretty Things and Be Bop Deluxe all appeared at the second day of the Great British Music Festival at London's Olympia.
1977, Genesis played at the Rainbow Theatre in London.
1979, Sex Pistol's bass player Sid Vicious went on trial in New York accused of murdering his girlfriend Nancy Spungen three months earlier.
1980, US singer Larry Williams was found dead from a gunshot wound to his head in his Los Angeles, California home aged 45. Williams had the 1957 US number five and UK number 21 single "Short Fat Fannie." He was also known for "Bony Moronie" and "Dizzy Miss Lizzy.' The Beatles, Rolling Stones, Dr. Feelgood, Flying Burrito Brothers, Johnny Winter, Little Richard, The Who, Ritchie Valens and Bill Haley & His Comets all covered his songs.
1982, The Allman Brothers Band appeared at the Mid-Hudson Civic Center, Poughkeepsie, New York.
1985, Aerosmith appeared at the Broome County Arena, Binghamton, New York.
1989, Record Mirror published a chart of 1988's Top UK singles artists. Number one was Kylie Minogue, number two, Bros, number three, Yazz, number four Tiffany, fifth Phil Collins, six, Cliff Richard, 7, Erasure, 8, Pet Shop Boys, 9, Belinda Carlisle, and number 10, Wet Wet Wet.
1994, Meat Loaf started a three-week run at No.1 on the UK album chart with Bat Out Of Hell 2-Back Into Hell.
1997, Guitarist Randy California from Spirit drowned when rescuing his 12-year old son when he was sucked into a riptide in surf off Hawaii.
2000, Travis started a six-week run at number one on the UK album chart with The Man Who.
2005, Green Day were at number one on the UK album chart with their seventh album American Idiot. The album went on to be nominated for seven Grammy Awards, winning the Best Rock Album of 2005.
2007, Gnarls Barkley's song "Crazy" was confirmed as the biggest selling UK single of 2006 selling over 700,000 copies. The track, which was the first to reach number one on downloads alone, held off the challenge of X-factor winner Leone. Snow Patrol's album Eyes Open topped the album chart with estimated sales of 1.5 million while Take That's comeback release Beautiful World came in just behind. Singles sales had doubled to over 65 million since the download chart was launched in September 2004.
Born on this day: Isaac Asimov (1920); Roger Miller (1936); Chick Churchill, Ten Years After (1949); and Glenn Goins, guitar, vocals, Parliament, Funkadelic (1954)