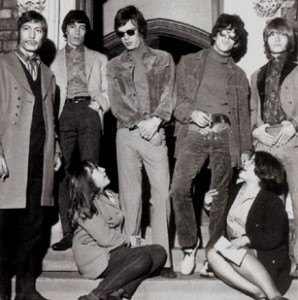 1966, The Rolling Stones started a two week run atop the singles chart with "Paint It Black," the group's third number one single.
1966, European radio stations mistakenly report that The Who's lead singer Roger Daltrey is dead. Actually, it was guitarist Pete Townshend who had been injured in a car accident a few days earlier.
1966, Elvis Presley begins shooting his 26th film, Double Trouble.
1967, Printed in this week's music weekly Melody Maker's ad's pages, "Freaky lead guitarist, bass and drummer wanted for Marc Bolan's new group. Also any other astral flyers like with car's amplification and that which never grows in window boxes, phone Wimbledon 0697." The band who formed as Tyrannosaurus Rex, went on to release four underground folk albums before becoming known as T Rex.
1968, Cream appeared at Paul Sauvé Arena in Montreal, Quebec.
1968, London's Olympic Studio catches fire while the Rolling Stones are there recording Beggars Banquet.
1968, Working at Abbey Road studios in London on the White Album, John Lennon worked on "Revolution 9" in studio 3, while Paul McCartney recorded "Blackbird" in studio 2.
1969, The Beatles were at No.1 on the singles chart with "The Ballad Of John and Yoko," the group's 17th No.1. Only two Beatles played on the track, John Lennon and Paul McCartney.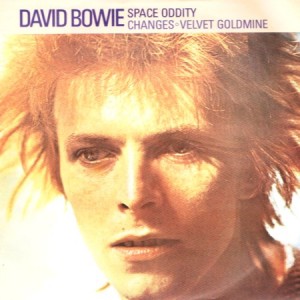 1969, David Bowie releases his single "Space Oddity" in conjunction with the planned Apollo 11 lunar landing.
1970, Traffic jammed at the Fillmore East in New York.
1970, The Rascals, Poco, and Alee Keith played at The Warehouse in New Orleans, Louisiana.
1971, The Allman Brothers Band appear at the Eastown Theater, Detroit, Michigan.
1972, Led Zeppelin performed at the Civic Center in Baltimore. Tickets were priced from $5.50 – $7.50. The set list was: Immigrant Song, Heartbreaker, Black Dog, Since I've Been Loving You, Stairway to Heaven, Going to California, That's the Way, Tangerine, Bron-Y-Aur Stomp, Dazed and Confused, What Is and What Should Never Be, Moby Dick, Whole Lotta Love (medley incl. Let That Boy Boogie, I Need Your Love Tonight, Hello Mary Lou, Heartbreak Hotel, I'm Going Down, Going Down Slow), Rock and Roll, Communication Breakdown.
1972, The Rolling Stones play the Forum in Inglewood, California. The opening act is Stevie Wonder.
1973, Deep Purple performed at Cobo Arena, Detroit, Michigan.
1974, The Who headlined at Madison Square Garden in New York.
1975, The Rolling Stones appeared at the Garden in Boston, Massachusetts.
1976, The Grateful Dead performed at the Great Boston Music Hall.
1976, AC/DC appeared at Glasgow City Hall, Scotland, on the first night of their Lock Up Your Daughters 19 date UK tour.
1977, Fleetwood Mac's Rumours retains the number one album in the US. Just one of the 31 weeks it would spend in that position in 1977 and 1978.
1977, Joe Strummer and Topper Headon were detained overnight in prison in Newcastle upon Tyne having failed to appear at Morpeth Magistrates on May 21st. Both Clash members were to answer a charge relating to the theft of a Holiday Inn pillowcase. They were both fined £100 ($170).
1977, KC and the Sunshine Band became only the second group after The Jackson Five to achieve four US No.1's when "I'm Your Boogie Man" went to the top of the charts.
1977, As Britain celebrated the Queen's Silver Jubilee, The Sex Pistols reached No. 2 in the singles chart with "God Save The Queen."
1978, Genesis appeared at Deutschlandhalle, Berlin, Germany.
1980, Aerosmith played at Stage West, Hartford, Connecticut.
1981, Tom Petty and the Heartbreakers performed at the Horizon in Rosemont, Illinois.
1983, ZZ Top played at the Civic Auditorium Arena, Omaha, Nebraska.
1984, Yes performed at Isstadion, Stockholm, Sweden.
1988, Nelson Mandellas 70th birthday tribute took place at Wembley Stadium, London, featuring Whitney Houston, Phil Collins, Dire Straits, Stevie Wonder, Tracy Chapman, George Michael, Eric Clapton, UB40, The Eurythmics and Simple Minds. The event was broadcast live on BBC 2 to 40 different countries with an estimated audience of 1 billion.
1991, The Grateful Dead played at the Coliseum in Charlotte, North Carolina.
2005, Jimmy Page, Led Zeppelin founding member and guitarist, was awarded an OBE in the Queen of England's Birthday Honours list and Queen guitarist and founding member Brian May was awarded a CBE.
2011, Pink Floyd's 1973 album The Dark Side Of The Moon, re-entered the Billboard Album chart at No. 47, and reached the milestone of 1,000 weeks on Billboard's charts.
Born on this day: John Lawton, Uriah Heep (19467); Glenn Leonard, The Temptations (1947); Alan Skipper, drums, The Pretty Things (1948) and Frank Beard, ZZ Top (1949)