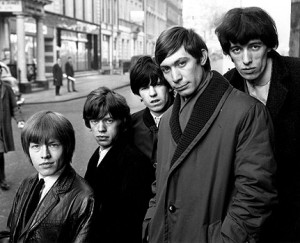 1964, The Rolling Stones play their first American show at a Lynn, Massachusetts high school football stadium. They also make their American TV debut on The Les Crane Show. An Associated Press reporter notes, "They are dirtier and streakier and more disheveled than the Beatles, and in some places, they are more popular than the Beatles."
1966, Frank Sinatra was at number one on the singles chart with "Strangers In The Night."
1966, The Who kicked off a 10-date European tour in front of 11,000 fans at the Grona Lund in Stockholm, Sweden. Their repertoire included a cover of Stevie Wonder's "Uptight."
1967, David Bowie released his debut album, David Bowie, which failed to make the UK charts.
1968, Cream played at the Pacific Coliseum in Vancouver, British Columbia, Canada.
1969, Yes appeared at the Bay Hotel, Sunderland, England.
1971, Pink Floyd appeared at the Student Health Centre Refectory, Edinburgh University, Edinburgh, Scotland.
1972, Dion reunites with the Belmonts for an oldies show at New York's Madison Square Garden.
1972, Spirit and Blue Oyster Cult played at Ft. Homer Hesterly Armory in Tampa, Florida.
1972, Pink Floyd release their soundtrack Obscured by Clouds in the UK. The US release would take place on June 17th.
1973, Paul McCartney had both the number one positions on the US charts when Red Rose Speedway, went to the top of the album chart and "My Love" started a four week run as the top single.
1973, Led Zeppelin played to 50,000 fans at San Francisco's Kezar Stadium. Although the 2 ½ hour show was 6,000 short of capacity, listeners blanketed the football field and stands. Hundreds of others heard the music for free from rooftops in the surrounding neighborhood.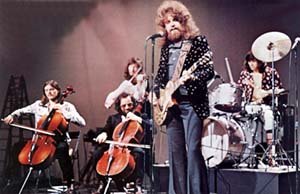 1973, The Electric Light Orchestra began their first US tour in San Diego, California.
1974, KISS played at the Sundowner Drive-In Theater, Anchorage, Alaska.
1975, Rush performed at the Winterland Ballroom, San Francisco.
1976, Wings set a new world record when they performed in front of 67,100 fans in Seattle, the largest attendance for an indoor crowd.
1977, Supertramp appeared at Maple Leaf Gardens, Toronto.
1978, Thin Lizzy released the live double album Live And Dangerous. It was recorded in Philadelphia, London and Toronto in 1977, during the tours accompanying the albums Johnny The Fox and Bad Reputation.
1979, Van Halen played at Carter-Finley Stadium, Raleigh, North Carolina.
1980, Roxy Music performed at Palais De Sport, Paris.
1981, Prince made his live British debut at The Lyceum Ballroom, London. He would not play the UK again for five years.
1984, Wham! had their first UK number one with "Wake Me Up Before You Go Go." Written and produced by George Michael, one half of the duo. Inspiration for the song was a scribbled note left by his Wham! partner Andrew Ridgeley for Andrew's parents, originally intended to read "wake me up before you go" but with "up" accidentally written twice, so Ridgeley wrote "go" twice on purpose.
1984, Aerosmith played at the Capitol Theater in Concord, New Hampshire, the first night on their 59-date North American Back In The Saddle tour.
1999, Junior Braithwaite from Bob Marley and the Wailers was shot dead aged 46, in the home of a fellow musician in Kingston, Jamaica. Braithwaite was one of the founders of, and the first lead singer of The Wailers. He left the band in 1964.
2002, Pop Idol winner Will Young scored his second UK number one single with his version of The Doors 1967 hit "Light My Fire."
2008, Guitarist and singer Bo Diddley (born Ellas Otha Bates) died of heart failure at his home in Archer, Florida at age 79. The legendary singer and performer, was known for his homemade square guitar and his distinctive rhythm, known at the "Bo Diddley beat," which influenced artists from Buddy Holly to Bruce Springsteen, The Rolling Stones and U2.
Born on June 2: Johnny Carter, American singer, The Flamingos and The Dells (1934); Otis Williams, singer, The Charms (1936); Charlie Watts (1941); William Guest, American singer-songwriter, producer, Gladys Knight & the Pips (1941); Marvin Hamlish (1944); Chubby Tavares, Tavares (1950); Michael Steele, bass, vocals, The Bangles (1959); Lydia Lunch, American singer-songwriter, guitarist, actress, Teenage Jesus and the Jerks, 8-Eyed Spy, Harry Crews, My Life with the Thrill Kill Kult (1959); Tony Hadley, English singer-songwriter, Spandau Ballet (1960); Dez Cadena, American singer-songwriter, guitarist Misfits, Black Flag, Osaka Popstar, DC3, The Gentlemen, Loaded (1961); Thor Eldon, guitar, The Sugarcubes (1962); Jason Falkner, American singer-songwriter, guitarist, producer, Jellyfish, The Grays, and The Three O'Clock (1968); Tim Rice-Oxley, English singer-songwriter, keyboards, Keane, Mt. Desolation (1976)