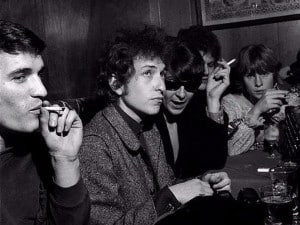 1965, Bob Dylan appeared at Carnegie Hall in New York City and introduced his new touring band made up of guitarist Robbie Robertson, organist Garth Hudson, bassist Rick Danko, pianist Richard Manual and drummer Levon Helm. They will become known simply as The Band.
1965, The Rolling Stones played at The ABC Regal in Chester, Cheshire, England.
1966, Jimi Hendrix appeared live for the first time in the UK when he jammed with Cream at their gig at London Polytechnic.
1966, The Who performed at Imperial Ballroom in Nelson, Lancashire, England.
1967, thieves broke into Mick Jagger's London flat and stole jewellery and furs belonging to his then girlfriend Marianne Faithfull.
1967, Pink Floyd, supported by Tomorrow, The Incredible String Band, and Tim Rose performed two shows for Sunday's At the Saville, at the Saville Theatre on Shaftsbury Avenue in London.

1967, The Who, opening for Herman's Hermits appear at the Mississippi State Coliseum in Jackson. In honor of their location, they do a one-time-only cover of Nancy Sinatra's hit song "Jackson." After the show, official band photographer Tom Wright takes Pete Townshend to a local doctor. He stitches up his finger that he had sliced to the bone doing his trademark windmills. The doctor says Pete won't be able to play for a month. Pete replies that he'll just glue his pick to the bandage.
1967, The first edition of UK BBC Radio 1's Top Gear was aired. Presented by John Peel and Pete Drummond they featured The Move, Traffic, Pink Floyd, Tim Rose and Tomorrow, featuring Keith West.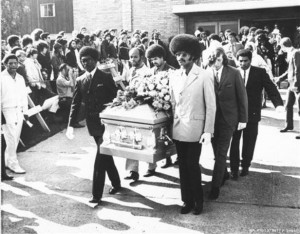 1970, Jimi Hendrix was buried at The Greenwood Cemetery at the Dunlop Baptist Church, Seattle. Mourners and attendees included Jimi's father Al and stepmother June, brother Leon, sister Janie, grandmother Nora, Noel Redding, Mitch Mitchell, Eddie Kramer, Miles Davis, Johnny Winter and his manager Steve Paul, Michael Jeffreys (Jimi's manager – who many believe was behind Jimi's death). One notable absence was Jimi's close friend Eric Burdon, who stated "Jimi hated Seattle" and felt it was inappropriate for him to be buried there.
1971, The Bee Gees played at St. John Arena in Columbus, Ohio.
1971, The Allman Brothers Band appeared at the Community Concourse Convention Hall in San Diego, California.
1972, David Bowie performed at the Music Hall in Boston, Massachusetts.
1973, King Crimson played at the Ice Arena, Kalamazoo, Michigan.
1974, Roxy Music appeared at De Montfort Hall, Leicester, England.
1975, 39 year old Al Jackson, drummer for Booker T. And The MGs, was shot and killed by a burglar at his home. His wife was questioned about the killing because she was arrested in July for shooting her husband in the chest during a domestic dispute. He wasn't badly hurt and the charges were dismissed when his wife claimed self-defense. Jackson had returned home to what police described as a botched robbery attempt. According to Jackson's wife, an intruder made her answer the door and then threw her husband to the floor demanding money. Jackson was forced to lie face down and then was shot in the back five times. The identity of the culprit remains a mystery.
1976, The Grateful Dead played at Market Square Arena in Indianapolis, Indiana.
1977, Elton John became the first musician to be honored in New York City's Madison Square Hall Of Fame.
1977, The Grateful Dead appeared at the Paramount Theater in Portland, Oregon.
1978, Golden Earring released Grab It For A Second, their thirteenth studio album. They had been touring with Ted Nugent the previous year and wanted to make a hard rock album. Unfortunately, the label chose Jimmy Iovine, a pop producer. It was the last Golden Earring album to feature Eelco Gelling on second guitar.
1978, Rory Gallagher released Photo-Finish, his seventh solo studio album. The band was stripped back down to a power trio and featuring Ted McKenna, ex- Sensational Alex Harvey Band on drums. Stand out tracks were "Shin Kicker", Shadow Play" and "Overnight Bag." It been said this album was influenced by Rory attending a Sex Pistols gig in 1977, with Rory saying "That was the worst gig I ever saw and it was also the best I ever saw."
1978, Yes performed at the Tarrant County Convention Center, Fort Worth, Texas.
1980, Rush played at the Cumberland County Civic Center, Portland, Maine.
1981, The Pretenders were forced to cancel the last leg of a US tour after drummer Martin Chambers put his hand through a windowpane, cutting tendons and arteries.
1982, Sony launched its first compact disc player, the CDP-101, for 168,000 yen ($730, £456).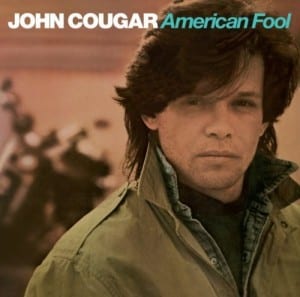 1982, John Cougar went to number one on both the album and singles chart with the album American Fool and the single "Jack And Diane."
1983, A David Bowie world convention was held at The Cunard Hotel in London. The event had the largest collection of Bowie merchandise ever assembled.
1987, Def Leppard kicked off the North American leg of their Hysteria world tour at Glens Falls Civic Center, Glens Falls, New York.
1988, Bon Jovi scored their first number one album with New Jersey, their fourth release. The follow-up to Slippery When Wet produced five Billboard Hot 100 top ten singles, the most top ten hits to date for a hard rock album. "Bad Medicine" and "I'll Be There for You" both hit number one on Billboard Hot 100.
1990, Forbes Magazine listed New Kids On The Block as the fifth richest entertainers in the US with an income of $78 million.
2004, Canadian bassist Bruce Palmer died of a heart attack. He was a member of The Mynah Birds and The Buffalo Springfield. Also worked with Crosby, Stills, Nash, & Young and Neil Young.
2007, Radiohead's official website crashed after the band announced that their new album In Rainbows would only be available to order via radiohead.com. Fans could pre-order the download at any price they choose or pay £40 ($64) for a "discbox," which included two CDs, two records, plus artwork and booklets.
Born on October 1: Bonnie Owens, The Strangers (1929); Richard Harris, actor, singer (1930); Albert Collins, bluesman (1932); Julie Andrews (1935); Herb Fame, Peaches and Herb (1942); Jerry Martini, sax, Sly and The Family Stone (1943); Donny Hathaway, soul, blues vocalist (1945); Martin Tuner, bass, Wishbone Ash (1947); Mariska Veres, singer, Shocking Blue (1947); Cub Koda, guitarist, songwriter, Brownsville Station (1948); Brian Greenway, April Wine (1951); Martin Cooper, Orchestral Manoeuvres In The Dark (1958); and Youssou N'dour, Senegalese singer, percussionist (1959); Kevin Griffin, guitarist, Better Than Ezra (1968)