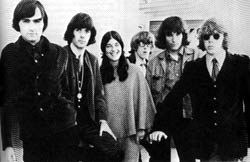 1966, Grace Slick performs as a member of Jefferson Airplane for the first time at San Francisco's Fillmore West after Signe Anderson bows out of the group's lineup. Slick, who was with fellow San Francisco band Great Society, introduces the band to two new songs, her composition "White Rabbit," and "Somebody to Love," written by her then brother-in-law Darby Slick.
1967, Folk singer Joan Baez was arrested, along with 123 others, for blocking the entrance to an Armed Forces Induction Center in Oakland, California.
1968, Pink Floyd performed at Theatre du Huitieme in Lyon, France with a psychedelic light show by the London Arts Laboratory.
1969, Record company executive and founder of the Chess record label, Leonard Chess, died of a heart attack aged 52. Chicago based Chess was home to Willie Dixon, Muddy Waters, John Lee Hooker, Chuck Berry, Bo Diddley, Little Walter, Jimmy Reed and Sonny Boy Williamson.
1969, Bobbie Gentry was atop on the UK singles chart with the Burt Bacharach and Hal David song "I'll Never Fall In Love Again," the singer's only UK number one.
1970, Rod Stewart & The Faces appear at the Eastown Theater in Detroit, Michigan.

1971, Isaac Hayes releases the Theme From Shaft." The theme music of the hit blaxsploitation film would go to number one.
1971, Neil Diamond performed at the Indiana State University Arena in Terre Haute, Indiana.
1972, Creedence Clearwater Revival split up following the failure of their most recent album, Mardi Gras. After limited success as a solo act and some legal hassles with Fantasy Records, John Fogarty would have two big hits in 1980, "Center Field" and "Rock and Roll Girl." John's brother Tom Fogarty died in September, 1990.
1974, The Grateful Dead played the first of five nights at the Winterland Arena, San Francisco, California.
1974, Hawkwind appear at Ellis Auditorium North Hall in Memphis, Tennessee.
1975, The Who played at the Apollo Theatre, Glasgow, Scotland.
1976, One hit wonder Rick Dees and his Cast Of Idiots went to number one on the singles chart with "Disco Duck."
1976, Stevie Wonder's Songs In The Key Of Life went to number one on the album charts, featuring the tracks "Sir Duke," "I Wish," and "Isn't She Lovely."
1977, Rush appeared at Taylor County Expo Center Coliseum, Abilene, Texas.
1978, Hawkwind played at Guild Hall, Portsmouth, England.
1979, AC/DC headlined at Towson University, Towson, Maryland.
1980, Jeff Beck appears at Cobo Arena, Detroit,Michigan.
1981, Eric Clapton played at Vejlby-Risskovhallen, Aarhus, Denmark.
1982, Culture Club appeared on UK TV's Top Of The Pops performing "Do You Really Want To Hurt Me," which they got thanks to Shakin' Stevens being ill and not able to appear. The song became a major hit after their memorable performance on the music TV show.
1983, ZZ Top appeared at the Marquee Club, London.
1986, Keith Richards, Eric Clapton and Robert Cray joined other artists on stage in St Louis, for Chuck Berry's 60th birthday concert, as featured in the film 'Hail Hail! Rock & Roll'.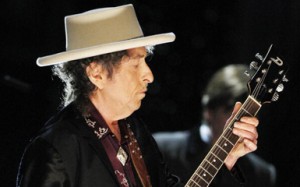 1992, Bob Dylan's 30th Anniversary (of his recording debut) tribute concert took place at Madison Square Garden in New York City. Guest performers include Neil Young, Eric Clapton, George Harrison, Roger McGuinn, Tom Petty, Ron Wood, and Dylan himself.
2006, CBGB, the legendary New York punk club credited with discovering Patti Smith and The Ramones, closed after a final gig by Smith herself. Blondie and Talking Heads also found fame after performing at the club, which helped launch US punk music. The venue first opened in December 1973, its full name CBGB OMFUG standing for "country, bluegrass, blues and other music for uplifting gormandizers".
2010, Auburn University graduate student Justin Havird named a new species of fish, Lepidocephalichthys zeppelini, because the fish's pectoral fin reminded him of the double-neck guitar used by Jimmy Page. "I'm a big Led Zeppelin fan, and I was listening to them while I was working on the fish," Havird said. "The structure that makes this species unique just reminded me of the guitar that Jimmy Page played."
Born on this day: Nico, The Velvet Underground (1938); Fred Turner, bass, vocals, Bachman Turner Overdrive (1943); Bob Weir, Grateful Dead (1947); Michael Balzary, (Flea), Red Hot Chili Peppers (1962); John Mayer (1977)