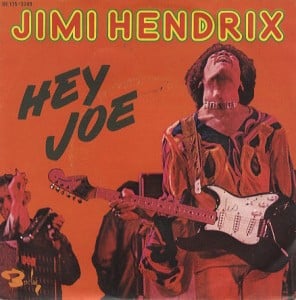 1966, The Jimi Hendrix Experience recorded their first single "Hey Joe," at De Lane Lea studios in London. The earliest known commercial recording of the song is the late-1965 single by the Los Angeles garage band the The Leaves. The band then re-recorded the track and released it in 1966 as a follow-up single which became a hit. The Byrds also performed and recorded a version of the song.
1966, The Yardbirds, with new recruit Jimmy Page, perform at San Francisco's Fillmore.
1967, Pink Floyd plays at the Bath Pavilion in Bath, Somerset, England.
1969, Columbia Records announces it will take legal action to stop sales of Great White Wonder, the popular bootleg set of previously unreleased Bob Dylan material.
1969, The Who continue a six-night stand at the Fillmore East in New York accompanied by the Joshua Light Show.
1970, Frank Zappa & The Mothers Of Invention perform at Kleinhans Music Hall in Buffalo, New York.
1970, The Who appear at Green's Playhouse in Glasgow, Scotland.

1971, Yes played at the Empire Theatre, Edinburgh, Scotland.
1972, The Grateful Dead appeared at the Performing Arts Center in Milwaukee, Wisconsin.
1972, Filming begins on That'll Be the Day, a musical starring David Essex, Ringo Starr, and Keith Moon.
1973, Genesis appeared at City Hall, Newcastle, England.
1973, "Midnight Train to Georgia" by Gladys Knight & The Pips reaches number one on the US singles chart.
1974, David Bowie appeared at the Arie Crown Theater, Chicago
1975, Eric Clapton performed at Festival Hall, Osaka, Japan.
1976, The Clash appeared at The ICA in London.
1976, The Jam played an afternoon show at Soho Market in London.
1976, Chicago started a two week run at number one on the singles chart with "If You Leave Me Now." It was the group's 18th Top 40 and first number one. It went on to win a Grammy Award for Best Pop Vocal Performance.
1976, Led Zeppelin made their US television debut on Don Kirshner's Rock Concert, when footage from The Song Remains the Same movie of "Dazed and Confused" and "Black Dog" is aired on the popular weekly music show.
1977, AC/DC played at Town Hall, Middlesborough, England.
1978, Sid Vicious tries to commit suicide at Rikers Island in New York. Vicious was waiting to be charged with murder following the stabbing death of his girlfriend Nancy Spungen.
1980, The Allman Brothers Band appeared at the Sunrise Theater, Fort Lauderdale, Florida.
1980, Mark David Chapman quit his security job and signed out for the last time. Instead of the usual "Chappy" he wrote "John Lennon." Chapman would murder Lennon on December 8th outside his New York City home.
1982, Culture Club were at number one on the UK singles chart with "Do You Really Want To Hurt Me," the group's first chart topper and the first of twelve UK Top 40 hits. The song became a major hit after their memorable debut performance on Top of the Pops, when they stood in for Shakin' Stevens who was ill and not able to appear.
1984, Pete Townshend stages and performs at an anti-heroin benefit concert at The Moonlight in Hampstead. Making their live debut at this show is a new band called The Stone Roses. Their drummer, Alan "Reni" Wren, also sits in for Pete's set.
1989, Nirvana played their first ever European show when they appeared at Newcastle's Riverside Club in North East England. It was the first night of a 36 date European tour for the group who were sharing the bill with Tad.
1993, Meat Loaf had his first UK chart topper with "I'd Do Anything For Love (But I Won't Do That.") It stayed at number one for seven weeks. A number one in twenty-eight countries and gave Meat Loaf his first US top hit.
1995, Def Leppard gave themselves a place in the Guinness book Of World Records, by playing three gigs in three continents in 24 hours. Tangier, London and Vancouver.
2002, A federal judge in St. Louis dismissed a lawsuit against Chuck Berry by Johnnie Johnson, a piano player and former collaborator who wanted royalties for more than 30 songs written between 1955 and 1966. The songs in question included "No Particular Place To Go," "Roll Over Beethoven," and "Sweet Little Sixteen." Johnson's lawsuit argued that he and Berry were co-writers on many of the songs, but because Berry copyrighted them in his name alone, Johnson got none of the royalties. The judge ruled that too many years had passed to bring about a royalties suit.
2005, Arctic Monkeys scored their first UK number one single with "I Bet You Look Good On The Dancefloor," the Sheffield band's debut single.
Born on October 23: Ellie Greenwich, songwriter (1940); Freddie Marsden, Gerry And The Pacemakers (1940); Greg Ridley, bass player, Spooky Tooth, Humble Pie (1943); Michael Burston, Motorhead (1949); Dwight Yoakam, (1956); Robert Trujillo, bass, songwriter Metallica, Black Label Society, Suicidal Tendencies (1964); Dale Crover, singer-songwriter, drummer, producer Melvins (1967);