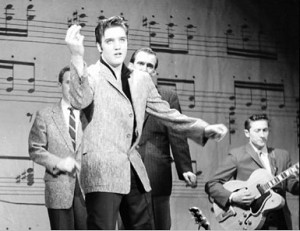 1957, Elvis Presley makes his last appearance on The Ed Sullivan Show, the variety program that helped launch him nationwide. He performs for over 20 minutes, singing "Hound Dog," "Don't Be Cruel," "Love Me Tender," "Heartbreak Hotel," "Peace in the Valley," "Too Much" and "When My Blue Moon Turns to Gold Again."
1958, Gibson guitars launched its "Flying V" electric guitar.
1962, Elvis Presley had his third number one album with Blue Hawaii. It spent a total of 18 weeks at the top of the charts.
1964, The first night of a 14-date UK tour Group Scene 1964, featuring The Rolling Stones, The Ronettes, Marty Wilde, The Swinging Blue Jeans, and Dave Berry and The Cruisers, played at the Granada Theatre, Harrow on The Hill, Middlesex, England.
1967, The Who played their first gig of this year when they appeared at Morecambe, Central Pier in England.
1967, Pink Floyd appeared at the UFO Club, 31 Tottenham Court Road, London.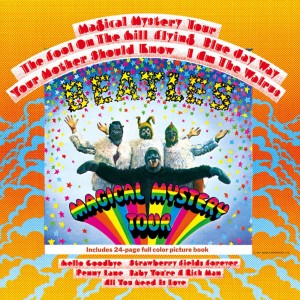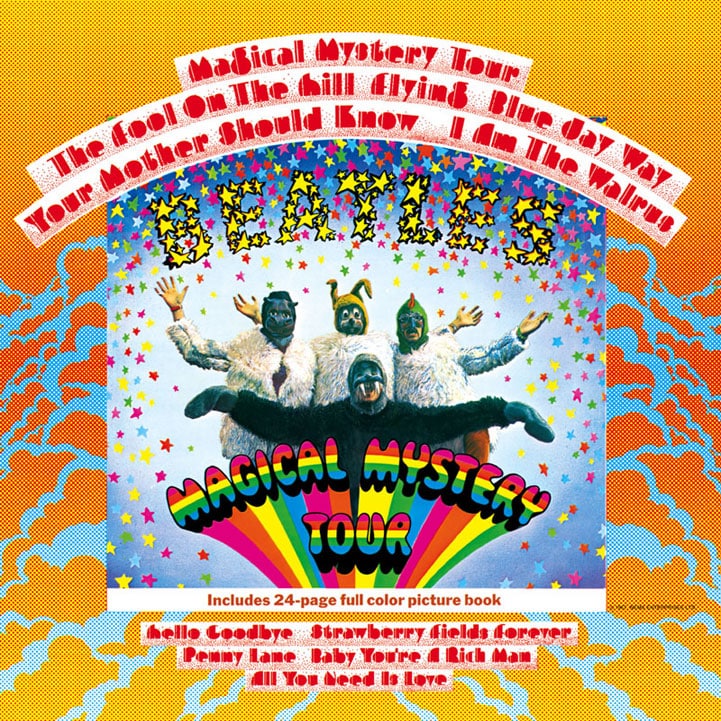 1968, The Beatles Magical Mystery Tour started an eight week run at number one on the album chart, the group's 11th US chart topper.
1968, The Who Sell Out first appears on Billboard's album charts. It had been released in America right after Christmas 1967. It peaks at #48.
1970, Crosby Stills Nash & Young made their UK live debut at the Royal Albert Hall, London.
1972, Mahavishnu Orchestra performed at Symphony Hall in Boston.
1973, Carly Simon's "You're So Vain," with Mick Jagger on backing vocals, started a three week run at number one on the US singles chart.
1973, David Bowie appeared at the Empire Theatre, Edinburgh, Scotland.
1974, Hawkwind played at the New Theatre, Oxford, England.
1975, Pink Floyd started sessions start at Abbey Road Studios London for their next album Wish You Were Here.
1975, The mayor of Boston cancelled a Led Zeppelin concert after more than 2,000 fans rioted trying to buy tickets. The fans caused an estimated $50,000 to $75,000 damage at Boston Garden. The gig during the band's North American tour was rescheduled for Feb 4th.
1977, EMI Records dropped The Sex Pistols, giving the band $68,000 to release them from their contract.

1978, Rush played at the Aragon Ballroom in Chicago.
1979, The Bee Gees started a two week run at number one on the singles chart with "Too Much Heaven," the group's seventh chart topper.
1979, Boston performed at the Hollywood Sportatorium, Pembroke Pines, Florida.
1979, The Village People scored their only number one single with "Y.M.C.A." At its peak the single was selling over 150,000 copies a day.
1980, The Allman Brothers Band performed at Nassau Veterans Memorial Coliseum in Uniondale, New York.
1987, Eric Clapton started what became an annual event by playing six shows at the Royal Albert Hall, London.
1989, Blue Oyster Cult appeared at The Ritz, in New York.
1993, Jazz great Dizzy Gillespie dies in Englewood, N.J. The trumpeter was 75.
2001, Pink Floyd guitarist David Gilmour won the right to his dot com name. Dave took legal action in his battle to reclaim davidgilmour.com from Andrew Herman who had registered the URL and was selling Pink Floyd merchandise through the site.
2006, American soul, jazz, singer Lou Rawls died at Cedars-Sinai Medical Center in Los Angeles. The 72-year-old, Grammy-winning artist had been battling lung cancer. Rawls had the 1976 US number two and UK number ten single "You'll Never Find Another Love Like Mine."
2007, US country-rock steel guitar player "Sneaky" Pete Kleinow, died aged 72 from Alzheimer's disease. He was one of the original members of the Flying Burrito Brothers with the Byrds' Chris Hillman and Gram Parsons. He also worked with John Lennon and Joni Mitchell.
Born on this day: Earl Scruggs (1924); Van McCoy, singer, producer (1944); Syd Barrett, Pink Floyd (1946); Sandy Denny, Fairport Convention (1947); Kim Wilson, The Fabulous Thunderbirds (1951); Malcolm Young, guitar, AC/DC (1953); Kathy Sledge, singer, Sister Sledge (1959); Muzz Skillings, bass, Living Colour (1960); Mark O'Toole, bass, Frankie Goes To Hollywood (1964); Gary Wiseman, drummer, Bowling For Soup (1971); Alex Turner, guitar, vocals, Arctic Monkeys (1986)