Fantasy comes in several forms, some of which is a genre of fiction that commonly uses magic and other supernatural phenomena as a primary element of plot, theme, or setting. Many works within take place in imaginary worlds where paranormal is common. Fantasy is generally distinguished from science fiction by the expectation that it steers clear of those themes, though there is a great deal of overlap between the two.  In the musical viewpoint, it also takes many forms ranging from surreal to the obvious.  Fantasy Records on the other hand, is a United States-based label that was founded by Max and Sol Weiss in 1949 in San Francisco, California.   We cover all of the bases on this program, and overlap where possible, because that is exactly what we do as we let you fantasies take over this broadcast of The 3D RadioActivity.
Please step this way…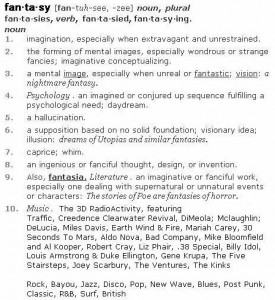 [jwplayer mediaid="5653″]
Be sure to tell me what songs pop into your thoughts when you focus on the word "Imagine".  You can be sure that we will hear John Lennon, Alan Parsons will tell us a tale of Mystery and Imagination, and The Atlanta Rhythym Section will sing about Imaginary Lovers, a song I nearly played for this Fantasy theme, however it spurred my imagination to use this idea for a whole show.  The same thing happened when I recently heard the phrases "Give and Take" along with "Lost and Found".  Its' truly amazing to me how this creative process works.  I want to invite you to participate by telling me your favorite lost, found, give, take and imaginary songs so I can play what you want to hear.  As another phrase goes, the more the merrier.