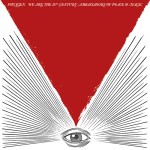 When I recently went to see Unknown Mortal Orchestra play in Chicago, the opening act was their Jagjaguwar label mates Foxygen. I had never heard of them before, however I must say that not only was I duly impressed enough to delve further into their oeuvre, but there were probably more people there to see them than UMO who were the headliners.
Foxygen is a California duo consisting of Jonathan Rado and Sam France who formed in 2005. Although they are a duo, the band adds several members including vocalist Elizabeth Fey when touring.
The group self-released six EPs, between 2005 and 2011 and got their big boost by handing their (at the time) just recorded EP Take The Kids Off Broadway to producer and Shins member, Richard Swift at one of his shows, not knowing if he would listen to it or toss it in the dustbin on his way out of the venue. Not only did he listen to it, he also agreed to produce and perform on their record.
Their sound is a thoroughly modern take on '60s psychedelia, infusing Kinks inspired melodies buried under a barrage of Velvet Underground drone with a hint of Bowie-Rex glam. Their second full-length album, We Are The 21st Century Ambassadors Of Peace & Magic is chock full of interesting non-sequitor lyrics and plush melodies that are undercut with energy and drive.
The album is an embarrassment of well-written riches including tracks like "Oh Yeah" with its "Mambo Sun" stop-start rhythms and jivey Bolan-esque vocals with rewarding lyrical couplets like "I've got a movie playing in my mind / I've got some money but it isn't mine / And if you wanna be a bummer, take a number / Baby, get in line," that make you think and smile with admiration at the same time. Elsewhere, "Shuggie," the record's first single, finds the band in a Paul McCartney moment, shape-shifting all over the place in its three minutes from funk to rock to melodic AM radio sing-a-long.
The quasi-religious "On Blue Mountain" unapologetically lifts the melody of Elvis Presley's "Suspicious Minds" and finds Sam France channeling Bob Dylan in the vocal department while singing "On Blue Mountain / God will save us/ Put the pieces back together."
"San Francisco" seems to have fallen off of an electric Kool Aid truck fully formed with a call and response chorus that gravitates between the pie-eyed naiveté of the sixties sifted through the lens of today's WTF generation.
All in all, We Are The 21st Century Ambassadors Of Peace & Magic is a record that really gets under your skin after repeated spins, and is well worth the investment in time and money to check it out. They will be performing again in the Chicago area this summer at the Pitchfork Music Festival. I will definitely be there!