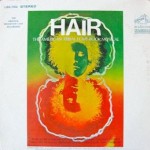 Most rock fans know this song by Three Dog Night's hit version, but here's the original recording from the 1968 Broadway Cast of the musical Hair – The American Tribal Love-Rock Musical.
The show introduced the hits "Aquarius/Let The Sunshine In," "Good Morning Starshine" and the title song which were brought to the charts by the likes of The Fifth Dimension, Oliver and The Cowsills respectively. All of the songs in the musical were written by Galt MacDermot, Gerome Ragni and James Rado.  MacDermot also wrote the music to the 1971 musical Two Gentlemen Of Verona and released several influential funk and instrumental jazz albums that are currently the rage amongst those "in the know" of the hipster cognoscenti.
I've been listening to this record since I was seven years old…way before I knew the meaning of "Sodomy," "Hashish," "Colored Spade," "Walking In Space" and the numerous other titillating-for-their-time songs in this musical. It is indeed part of my musical DNA.
The cast album to Hair has managed to stand the test of time and the musical has enjoyed numerous successful revivals and tours around the world. The musical was also taken to the big screen in 1979 by director Milos Forman with choreography by Twyla Tharpe, introducing it to numerous later generations.
While I was too young to catch the musical on Broadway in its original incarnation, I did manage to see a revival on Broadway during the 1980s.