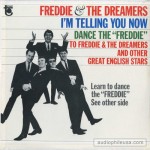 I'm writing this on the 49th anniversary of The Beatles historic first performance on The Ed Sullivan Show, and while I have a vague memory of The Beatles playing on Sullivan, I don't think it was their very first performance. Well, heck, I must have only been four or five years old. But even then, I do remember there was a sense of importance about the event in my house, because of my older sister, who made it that way.
Some of my earliest memories of the British Invasion include albums by the Herman's Hermits including "Mrs. Brown You've Got A Lovely Daughter" and "I'm Henry The VIII," and today's Song Of The Day by Freddie & The Dreamers, "I'm Telling You Now."  In fact, I have a distinct memory of my sister playing her copy of the album that is pictured with this piece, and teaching my brother and I how to do "The Freddie."
It was pure show biz. The wacky dance performed by Freddie Garrity, with his hands and legs flailing to and fro. The vapid, comedic mugging. The maniacal laugh that bordered on the annoying. The geeky glasses.  The matching tailored suits. – They were just what American teens demanded in 1964 at the height of the British Invasion, when all things British was all the rage.
Garrity was an ex-milkman from Manchester, England when he joined forces in 1963 with Roy Crewdson on guitar, Derek Quinn also on guitar and harmonica, Peter Birrell on bass and Bernie Dwyer on drums, to form Freddie & The Dreamers.
They were much bigger in their native England where they scored four chart hits, to their two in America which included the chart-topping "I'm Telling You Now," and its number 18 follow-up, "Do The Freddie," which capitalized on Garrity's manic stage gyrations by turning it into a dance craze.
Perhaps critic Lester Bangs summed it up best when he said in The Rolling Stone History Of Rock& Roll, "Freddie and the Dreamers [had] no masterpiece but a plentitude [sic] of talentless idiocy and enough persistence to get four albums and one film soundtrack released … the Dreamers looked as thuggish as Freddie looked dippy … Freddie and the Dreamers represented a triumph of rock as cretinous swill, and as such should be not only respected, but given their place in history."