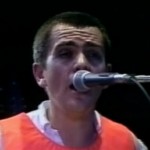 By the time of the broadcast from this 1978 Rockpalast show, Peter Gabriel was three years past his Genesis days and was out on the road promoting his second solo record, Peter Gabriel (which also goes by the names Peter Gabriel II and Scratch because of its album jacket image).
I've already written several pieces on Peter Gabriel's second album and its unique relationship with two other Robert Fripp productions, Sacred Songs by Daryl Hall and Fripp's own Exposure , but a nice pro-shot concert from this era is a real find worth sharing.
The video was shot on September 15th 1978 and was shown on the long-running German music TV show, Rockpalast. It's Gabriel in full theatrics, gyrating and rolling around on stage in costume, with dramatic lighting and an even more dramatic haircut.
His first-rate band includes Peter Gabriel on piano and vocals, Tony Levin on bass, Jerry Marotta on drums, Sid McGuiness on guitar, Larry "Synergy" Fast on keyboards and Timmy Capello on keyboards and saxophone.
The set list features all you could've wanted from a Gabriel show from this period, including White Shadow and Perspective from the second album and Solisbury Hill, Here Comes The Flood, Humdrum and Waiting For The Big One from the first. Toss in and early version of "I Don't Remember," that wouldn't see a proper release for two more years and, of course, a token Genesis classic, "The Lamb Lies Down On Broadway," and you've got a feast for the eyes and ears for any Gabriel fan.
Thanks to my musical comrade in arms, Bob Wintermute, for sharing this with me.