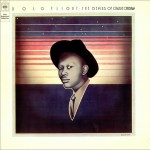 The world of music is scattered with "what ifs," such as "What if Waylon Jennings didn't give his seat up to Buddy Holly on the ill-fated flight that took his life?," or "What if John Lennon hadn't been murdered…would there have been a Beatles reunion?"
One of the more intriguing what-ifs in my book is "What if a 25 year old guitar wiz by the name of Charlie Christian had lived a full life?" What kind of music can we have expected to come from him?
Well based on the two years of recordings he left behind with Benny Goodman, they would have been stunning to say the least. Case in point is this 1939 sextet recording with Benny Goodman on clarinet, Lionel Hampton on vibes, Fletcher Henderson on piano, Artie Bernstein on bass and Nick Fatool on drums. Listen to how tight the lead trio of clarinet, vibes and guitar are as they fly together in unison into the musical stratosphere.
What's even more fascinating is that this recording was made during a time of uncertainty for Goodman. He had disbanded his orchestra due to medical issues a few months before. After enduring back surgery for acute sciatica (which was far more debilitating then than it is now), Goodman faced the task of putting a new band together after being out of circulation for months.
One of the first things he did was to put this sextet together with Charlie Christian, a new guitarist from Oklahoma he'd found through John Hammond. At the time, the electric guitar was not a common instrument in a big band, let alone in a sextet. Goodman took the opportunity to try something different and it paid off in spades.
Unfortunately, we'll never really know the answer to this "what if" scenario, but at least we have the amazing recordings we do by Charlie Christian to marvel and ponder.
Note: While the YouTube video is labeled "Roast Turkey Stomp," it is actually a 1939 live recording of "Seven Come Eleven" by Charlie Christian with The Benny Goodman Sextet.