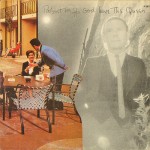 After the demise of King Crimson in 1974, Robert Fripp spent several years laying low before entering a period of high activity from 1977-1980, resulting in some of his most interesting collaborations. Starting in 1977, Fripp joined Brian Eno in Germany to add guitar parts to David Bowie's "Heroes."  This was followed by Fripp's production of albums for Daryl Hall (Sacred Songs), Peter Gabriel (his second album with the "Scratch" cover) and the eponymously titled album by The Roches, plus sessions with an amalgam of like-minded artists including Peter Hammill (of Van Der Graaf Generator), Brian Eno, Blondie (on Parallel Lines), Jerry Marrota, Phil Collins and Tony Levin. Some of these sessions resulted in tracks that made up Fripp's first solo record, Exposure released in 1979. After the release of Exposure, Fripp also participated in sessions with Talking Heads (Remain In Light), David Bowie (Scary Monsters) and Peter Gabriel (his third album known as Melt).
God Save The Queen/Under Heavy Manners was the follow-up to Exposure, which was supposed to be the third in a trilogy of records he produced, with Sacred Songs by Daryl Hall as the first and Peter Gabriel's second album as the second. However, RCA records refused to release the Daryl Hall record in 1977 deeming it too uncommercial (and kept it on the shelf for a full three years), so a re-think was needed.
At this point, Fripp was enmeshed in "Frippertronics" which is a tape loop technique he and Brian Eno developed putting two reel-to-reel tape decks side by side, with the tape on the recording deck capturing a sound and then as the tape passes through the playback head of the second deck, it is played back with a delay before being threaded onto the take-up reel of the second deck.
Fripp had used the technique on the albums No Pussyfooting and Evening Star with Brian Eno, on David Bowie's Heroes, as well as on Exposure and the Hall and Gabriel records. The God Save The Queen album side (designated as "Side One") featured pure Frippertronic recordings of just loops, while the Under Heavy Manners side (designated as "Side A") featured what Fripp termed "Discotronics," which augmented the pure "Frippertronics" with a dance beat.
During the recording  of Manners, Fripp was also working with Talking Heads on their album Remain In Light, so for the only track with vocals, Fripp invited David Byrne (billed as Absalm el Habib) to sing. All of the guitar tracks on the album were recorded live in 1979 while Fripp toured behind Exposure, with the bass played by Busta Jones who was also involved in the Talking Heads sessions, and drum tracks by Paul Duskin, added later in the studio.