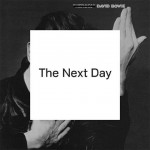 What a great way to start a new year! The first new David Bowie music in ten years, in the form of a single called "Where Are We Now?," was released on Bowie's 66th birthday this week, and a new album, "The Next Day," is coming down the pike on March 12. The recording sessions were held in secrecy, so few knew that this one was on the books for 2013. Even in our linked-in totally-online-world, surprises are possible!
Anybody that's known me for a long time knows that I've been a huge fan of David Bowie since the early 1970s. His music had a profound impact on me, and I've never stopped loving or listening to it over the years. Being a fan of Bowie during my middle school years (6th-9th grade) also brought me a lot of grief in the form of bullying, but I always persevered because I knew just how great his music was.
Throughout the years, I saw him in person as often as possible, catching his 1976 "Isolar StationToStation" tour, the 1978 "Isolar II/Heroes" tour, 1980 on Broadway in "The Elephant Man," 1983's "Serious Moonlight Tour," 1987's "Glass Spider" spectacle, "1997's "Earthling" tour and his final "A Reality" tour in 2004.
After health issues on his final road trek, Bowie gave the impression that he was completely finished with music, preferring to settle down in New York City with his family. So it is indeed a huge bonus and a total surprise that we have some new music coming from him in 2013.
The new song is an atmospheric ballad filled with a sense of ennui, and is very much akin to what he'd been doing on his last two records, "Reality" and "Heathen." In the video, which was directed by multimedia and installation artist Tony Oursler, Bowie takes us on a somber tour of the Berlin streets that provided the backdrop for two of his greatest albums, "Low" and "Heroes," while a two-headed puppet version of him and (I'm assuming) his wife, Iman sit on a couch with distorted faces. All the while, the lyrics to the song appear on the screen.
In a bizarre twist, the cover of "The Next Day" takes the album cover to "Heroes," crosses out the old title, and obscures Bowie's face with a white box sporting the new title printed plainly in the center. For a Q&A with the designer about this cover, you can go to this link: http://virusfonts.com/news/
For today's Song Of The Day, I've also revisited a track from his last studio album, Reality which was released in 2003. "Try Some, Buy Some" was written by George Harrison and is one of two covers on the album, the other being a cover of The Modern Lovers' "Pablo Picasso."
Harrison wrote the song as a vehicle for Ronnie Spector, the former lead singer of The Ronnettes. Her husband, Phil Spector produced the sessions for Harrison's album "All Things Must Pass," and as part of the production deal, Harrison happily agreed to write and co-produce an album for Ronnie (whom he was a huge fan of) and release the record on the Beatles' Apple label.
Phil's heavy drinking during the early '70s session resulted in only a handful of songs being committed to tape including "You," "Tandoori Chicken," "When Every Song Is Sung" and "Loverly Laddy Day," before the sessions were totally aborted. A single of "Try Some, Buy Some" backed with "Tandoori Chicken" was released on Apple and didn't do well in the charts. The rest remain in the can to this day.
George Harrison later used the backing tracks for "Try Some, Buy Some" and "You" with his own vocals, and released them on the albums "Living In The Material World" and "Extra Texture" respectively.
While Bowie's version of the song is somewhat faithful to both Harrison and Spector's recording, the string arrangement and his dynamic vocals add a dramatic flair to the proceedings not found in the others.