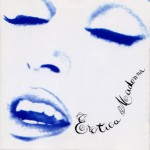 Song Of The Day by Eric Berman – "Where Life Begins" by Madonna
It's a dirty little song…from a dirty little record!
"My name is Dita, I'll be your mistress tonight…" so began Madonna's fifth and most artistically accomplished record with this introduction from "Erotica," its title track. In it, Madonna took on the alter ego of Dita which was inspired by 1930s actress Dita Parlo.
Erotica came out at a time when many people believe Madonna jumped the preverbal shark from overexposure, resulting from the simultaneous release of the record, an erotic picture book called Sex, a worldwide tour dubbed The Girlie Show and a role in the film Body of Evidence.
For me, Erotica signaled Madonna's creative apex.
Much of the activity surrounding the release of Erotica stemmed from the formation of Madonna's multi-media company which she based on Andy Warhol's Factory. Maverick became her record label and dabbled in the world of book publishing, photography and film.
By the time of the record's release, Madonna was an icon at the height of her popularity. It also appeared during the height of a full blown Aids outbreak that made sex dangerous. As a result the icon began to challenge her audience in ways it didn't want to be challenged, by appearing in videos as a gold-toothed dominatrix (Dita) in various forms of bondage, foisting tales of pleasurable and deviant sex onto an unsuspecting audience, and appearing totally naked for the entire world to see in the Sex book.
Sure Madonna had titillated and challenged her audience before, specifically in the realm of religion with the video for "Like A Prayer," but many believed the Erotica project took it a step too far. For instance, the album's title track and biggest single takes on the topic of bondage and poses the question "If I take you from behind, push myself into your mind when you least expect it, will you try and reject it?"… "Like A Virgin" this wasn't! The video for the song was pulled from most outlets when it came out, and MTV deemed it to racy to be aired during the daytime, choosing to air it only after midnight.
Most of the record was produced by Madonna and Shep Pettibone, however the two strongest tracks, "Secret Garden" and today's Song Of The Day, were produced by Madonna and André Betts. Betts had worked with Madonna before on the single "Justify My Love," while Pettibone had remixed many of Madge's singles for several years and was fresh off helming the production duties for the single "Vogue."
Erotica was Madonna's most clubby record featuring frosty beats and a cold, remote sound throughout. Today's sextastic Song Of The Day about the pleasures of cunnilingus features a sinuous bass line and the very clever lyrics "I'd like to direct your attention to something that needs directing to, A lot of people talk about dining in eating out, I guess that's what this song is all about…" and "Colonel Sanders says it best, finger licking good. Let's put what you learned to the test, can you make a fire without using wood. Are you still hungry; aren't you glad we came, I'm glad you brought your raincoat, I think it's beginning to rain…"
While I wouldn't say the record creates the ultimate party atmosphere, it does have several audacious dance tracks including the clubby disco house of the single "Deeper And Deeper," "Thief Of Hearts" and a cover of Little Willie John's "Fever," in which Madonna channels an even icier Peggy Lee than on the original hit version.
The songs "Bad Girl" and "Rain" come closest to the sound of Madonna's earlier hits with Madonna singing in full on voice, and "Why's It So Hard" offers a plea for peace and solidarity that is also a throwback to earlier triumphs. These songs provide some necessary relief from the somewhat steely, detached word speak of tracks like "Bye Bye Baby" ("This is not a love song…") and "Words."
Elsewhere Madonna get personal in the lounge jazz of the record's best cut "Secret Garden" in which Madge ponders "You plant the seed and I'll watch it grow, I wonder when I'll start to show" and on "In This Life" that mourns the loss of artist Keith Haring and one of Madonna's mentors from early in her career to the Aids epidemic.
Along with Bedtime Stories which was this record's follow up, Madonna would never reach the creative heights she did here. While she managed to come close six years later with her album Ray Of Light, it was sadly all downhill from here.