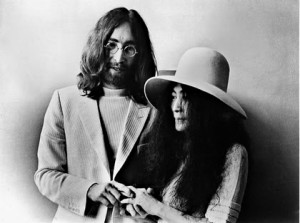 1969, The recording of "The Ballad Of John and Yoko" took place, with just two Beatles, Paul McCartney and John Lennon. Paul played bass, drums and piano with John on guitars and lead vocals. The song was banned from many radio stations as being blasphemous. On some stations, the word 'Christ' was edited in backwards to avoid the ban.
1969, Pink Floyd debuted a new performance piece at the Royal Festival Hall, South Bank London. The Man/The Journey are two suites of music built around existing songs and new pieces of music the band was working on. Included in the action on stage were sequences during which the band sawed wood and nailed pieces of it to form a table. Another had the members were served tea. There is a well known bootleg tape of the 17 September show in Amsterdam that has the same set list.
1970, Creedence Clearwater Revival made their live UK debut when they played the first of two nights at The Royal Albert Hall, London.

1971, The Illinois Crime Commission issued a list of 'drug-oriented records' including "White Rabbit" by Jefferson Airplane, "A Whiter Shade Of Pale" by Procol Harum and The Beatles' "Lucy In The Sky With Diamonds".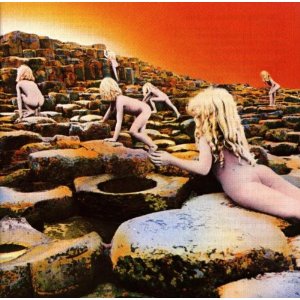 1973, Led Zeppelin started a two-week run at number one on the album chart with Houses Of The Holy The young girl featured on the cover of the album climbing naked up Giants Causeway in Northern Ireland is Samantha Gates who was 6 years old at the time of the photo shoot.
1974, Pete Townshend performs solo for the first time at London's Roundhouse. He's backed by tapes he made in his home studio.
1975, After rumors that Jimmy Page, Steve Marriott, Jeff Beck and Chris Spedding would replace Mick Taylor as guitarist in The Rolling Stones, a press release confirmed that Ron Wood would be joining the band for their forthcoming American tour.
1976, Motown Records and Stevie Wonder announced the largest contract renewal to date, worth $13 million.
1978, Joy Division played at the 'Stiff Test -Chiswick Challenge', at Raffters in Manchester, England. Future managers Rob Gretton and then journalist Tony Wilson saw the band for the first time.
1979, The Doobie Brothers went to No.1 on the US singles chart with 'What A Fool Believes', the group's second US No.1, it made No.31 in the UK.
1980, Gary Numan released 'The Touring Principle', the first long-form rock video to be made commercially available in the UK.
1983, The Pretenders bass player Pete Farndon died from a drug overdose. He was sacked from the group on June 14th 1982, (two days before Pretenders guitarist James Honeyman-Scott was found dead of heart failure). Farndon was in the midst of forming a new band with former Clash drummer Topper Headon when he died.
1983, Tears For Fears appeared at the De Montfort Hall, Leicester. Spandau Ballet appeared at The Royal Albert Hall, London.
Born on April 14: Loretta Lynn ((1935); Tony Burrows, Edison Lighthouse (1942); Ritchie Blackmore, Deep Purple (1945); Larry Furgeson, Hot Chocolate (1948); and Win Butler, Arcade Fire (1980)