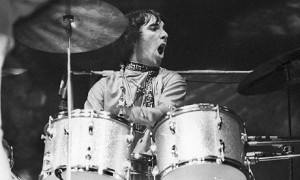 1966, The Who performed at Birmingham Hippodrome in Birmingham, West Midlands, England.
1967, Pink Floyd appeared at Blue Opera Club, held at at The Feathers public house in London, England. A patron threw a penny a Roger Waters resulting in gash to his forehead.
1968,  Keith Moon, drummer with The Who, drove his Lincoln car into a Holiday Inn swimming pool while enjoying a wild birthday party.
1968, The Beatles' new record label, Apple Records turned down the offer to sign new artist David Bowie. Apple later signed Mary Hopkin, James Taylor, Badfinger, and Billy Preston. Hopkin would go on to score a UK number one single, "Those Were The Days".

1968, Louis Armstrong was at number one in the UK with the single "What A Wonderful World / Cabaret." At 69 years of age, it made Armstrong the oldest act ever to score a UK chart topper.
1969, Paul McCartney publicly denies rumors that he is dead.
1969, Led Zeppelin played at Fillmore West in San Francisco. It is a popular bootleg concert.
1970, Grace Slick and Abbie Hoffman leave a White House party without having dosed young Tricia Nixon with LSD as planned. The Jefferson Airplane singer was invited to the bash by Tricia, and took along the outlaw Hoffman as her date. Hoffman was turned away at the gate. Slick went with him.
1970, The Allman Brothers Band performed at the Woodrose Ballroom, Deerfield, Massachusetts.
1971, Crosby Stills Nash & Young went to number one on the album chart with 4 Way Street.
1971, The Grateful Dead appeared at Wallace Wade Stadium, on the campus of Duke University, in Durham, North Carolina.
1972, Pink Floyd played at the Sports Arena, Toledo, Ohio.
1972, John Lennon's controversial single, "Woman Is the Nigger of the World" was released in the US. The song peaked at number 57, despite virtually every radio station in the country refusing to play it. Yoko Ono said the phrase during a magazine interview in 1967 and Lennon later explained that he was making a point that women deserved higher status in society.
1973, King Crimson appeared at the State Fairgrounds, Oklahoma City, Oklahoma.

1974, David Bowie releases Diamond Dogs.
1975, Peter Ham, British singer, songwriter with Badfinger committed suicide by hanging himself in the garage of his Surrey home, aged 27. Ham co-wrote "Without You," with bandmate Tom Evans, who also later committed suicide. The song won an Ivor Novello award for Song Of The Year in 1973, and was a hit for Harry Nilson and Mariah Carey. Ham was a founding member of The Iveys, who later became Badfinger. They were signed to the Beatles' Apple label. Their first hit "Come And Get It" was written by Paul McCartney.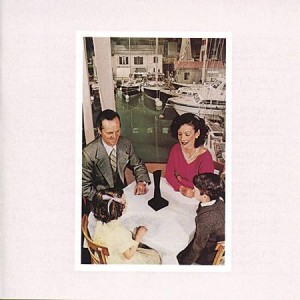 1976, Led Zeppelin scored their sixth number one album with Presence.
1976, Wings At The Speed Of Sound went to number one on the album chart. Paul McCartney's fifth solo chart topper after the breakup of The Beatles.
1976, David Bowie performed at Nya Masshallen, Helsinki, Finland.
1976, Paul and Linda McCartney spent the evening with John Lennon at his New York Dakota apartment and watched Saturday Night Live on TV. Producer of the show Lorne Michaels made an offer on air asking The Beatles to turn up and play three songs live. Lennon and McCartney thought about taking a cab to the studio, but decided they were too tired. This was the last time Lennon and McCartney were together.
1977, Pink Floyd performed at Tampa Stadium, Tampa, Florida.
1978, David Bowie appeared at the MECCA Arena, Milwaukee, Wisconsin.
1979, Ray Charles' "Georgia On My Mind" was proclaimed the state song of Georgia. The music to the song was written in 1930 by Hoagy Carmichael who also recorded a version of the song in New York in the same year. Ray Charles, a native of Georgia, recorded it in 1960 on the album The Genius Hits the Road.
1980, ZZ Top performed at the Hammersmith Odeon, London.
1981, New Order started work on their first album at Strawberry studios in Stockport, England.
1982, Ozzy Osbourne appeared at the Capital Centre, Landover, Maryland.
1983, Bryan Adams, Sammy Hagar, Aerosmith, and Journey performed at the Miami Baseball Stadium.
1987, Deep Purple played at The Spectrum, Philadelphia, Pennsylvania.
1990, The road crew for Roger Waters discovered an unexploded World War II bomb while constructing the set for The Wall concert in Potsdamer Platz, Germany.
1992, David Bowie married Somali born supermodel and actress Iman in Switzerland. Iman first got married at the age of eighteen to a young Somali man. Then, in 1977, she wed American basketball player Spencer Haywood.
1995, Oasis released "Some Might Say" which went on to give the band their first UK number one single.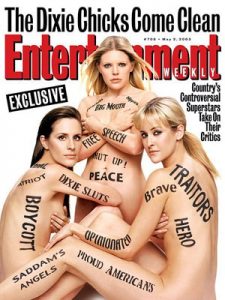 2003, The Dixie Chicks launched a publicity campaign to explain their position after the controversy of Natalie Maines' statement regading the Iraq war. During a prime-time interview with ABC TV personality Diane Sawyer, Maines said she remained proud of her original statement. The band also appeared naked, with private parts strategically covered, on the cover of Entertainment Weekly magazine, with slogans such as "Traitors", "Saddam's Angels", "Dixie Sluts", "Proud Americans", "Hero", "Free Speech", and "Brave" printed on their bodies.
2007, The Arctic Monkeys sold 85,000 copies of their new album Favourite Worst Nightmare on its first day in UK shops, putting it on course to be the year's fastest-selling new release.
2012, Sinead O'Connor cancelled the remaining dates of her world tour, saying she was still recovering from a "very serious breakdown". In a statement on her official website, she said she had scrapped all concerts this year due to her bipolar disorder. Her website was also now being deleted along with her Twitter account.
Born on April 24: Barbra Streisand (1942); Richard Sterban, American singer, The Oak Ridge Boys (1943); St. Clair Lee, Hughes Corporation (1944); Doug Clifford, Creedence Clearwater Revival (1945);  Glen Cornick, Jethro Tull (1947); H. Ann Kelly, The Hues Corporation (1947); Nigel Harrison, British bass player, Blondie, Silverhead (1951); Jack Blades, American bass player, songwriter, Night Ranger, Rubicon, Damn Yankees (1954); Captain Sensible, English singer-songwriter, guitarist, The Damned, Dead Men Walking (1954);  David Jay, Bauhaus, Love & Rockets (1957); Boris Williams, drums, The Cure, Thompson Twins (1957);  Billy Gould, American bass player, songwriter, producer, Faith No More, Fear and the Nervous System, Jello Biafra and the Guantanamo School of Medicine (1963); Paula Frazer, American singer-songwriter, guitarist, Tarnation, Faith No More, Frightwig (1963); Paul Ryder, bass, Happy Mondays (1964); Brian Marshall, bassist, Creed (1974); Tyson Ritter, American singer-songwriter, guitarist, actor The All-American Rejects (1984)