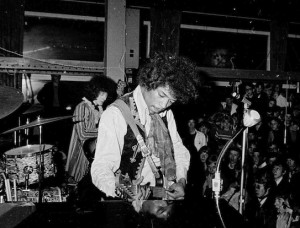 1966, Jimi Hendrix made his British TV debut on ITV's Ready Steady Go! Marc Bolan was also on the show. The Jimi Hendrix Experience also recorded "Foxy Lady" on this day. The United States version of Are You Experienced listed the song with a spelling mistake as "Foxey Lady" and this is how it is still known among many North American fans.
1967, Pink Floyd appeared at the Flamingo Club in Cornwall, England
1968, Led Zeppelin performed at the Bridge Place Country Club in Canterbury, England.
1969, Diana Ross took the Latino Casino in Philadelphia to court for $27,500 after her two pet dogs died after eating cyanide tablets left by an exterminator in her dressing room.
1969, Bob Dylan was featured on the cover of Rolling Stone magazine, on sale for 35 Cents.
1970, Dave Edmunds was at No.1 on the singles chart with his version of the 1955 Smiley Lewis hit 'I Hear You Knocking.' The Welsh singer, songwriter and producers only No.1 hit.
1971, The Who performed at the Civic Center in San Francisco.
1972, Roxy Music appeared at the Hollywood Palladium, Hollywood, California.
1974, George Harrison performed at the Capital Centre, Landover, Maryland.
1975, Chicago started a five-week run at No.1 on the album chart with 'Chicago IX-Chicago's Greatest Hits', the group's fifth No.1 album.
1977, Rush played at the Civic Auditorium and Coliseum, Knoxville, Tennessee
1978, The Grateful Dead played at Curtis Hixon Convention Hall in Tampa, Florida.
1981, The Rolling Stones performed at Sun Devil Stadium, Tempe, Arizona.
1982, The perform the first of two nights at Richfield Coliseum in suburban Cleveland, Ohio. The shows are professionally recorded and, with the exception of "Substitute", "Magic Bus" and "Summertime Blues", are used to assemble the later LP Who's Last. Future The Sopranos star Little Steven and his band The Disciples Of Soul are the opening act. Before leaving for Toronto, Roger Daltrey and Kenney Jones visit sick children at the Rainbow Babies and Children's Hospital in Cleveland.
1986, Bruce Hornsby & The Range went to number one on the US singles chart, with "The Way It Is," a top 15 hit in the UK.  It was written by Bruce Hornsby and his brother John Hornsby, it made explicit reference to the American Civil Rights Movement. The song was heavily sampled by Tupac Shakur in his song, 'Changes' from 1998.
Born on this day: Robert Martinez, ? & The Mysterians (1945);  Jeff "Skunk" Baxter, Doobie Bros and Steely Dan; Ted Nugent (1948); Tom Verlaine, guitar, vocals, Television (1949);  Davy O'List, The Nice (1950); Jamie Foxx, born Eric Marlon Bishop (1967); and Taylor Swift (1989)