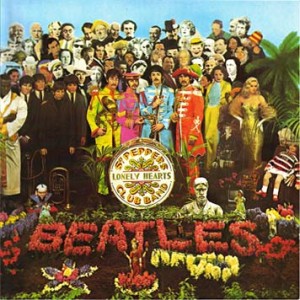 1967, The Beatles record the piano chord used on "A Day in the Life." David Crosby pops by Abbey Road studios for a visit.
1968, The Who appeared at the Fillmore West in San Francisco.
1968, Genesis releases its first single, "The Silent Sun." Peter Gabriel and Tony Banks later say they wrote the song in the style of the Bee Gees to impress producer and Bee Gees fan Jonathan King.
1969, Tyrannosaurus Rex appeared at The Free Trade Hall, Manchester, England. Support act was David Bowie performing a one-man mime act.
1969, The Beatles begin their sessions for Abbey Road with a take of "I Want You (She's So Heavy").
1970, Appearing at The Roundhouse Spring Festival in Camden, London, David Bowie and the Hype, (first live performance of the new band), along with Bachdenkel, Groundhog and Caravan.
1971, George Harrison was fined and banned from driving for a year.

1972, Elvis Presley and his wife Priscilla were legally separated. The couple had married in 1967.
1972, Wings played the last date on their 11-date unannounced UK tour at Oxford University.
1973, An interesting double bill, REO Speedwagon and Cheech & Chong at the Exposition Gardens – Youth Building in Peoria, Illinois.
1973, Black Sabbath played at the Palasport, Vicenza, Italy.
1973, The Grateful Dead performed at Assembly Hall on the campus of the University of Illinois in Champaign, Illinois.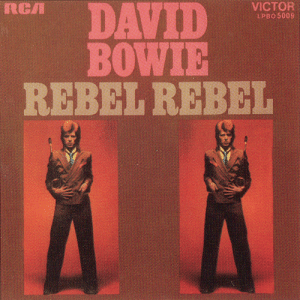 1974, "Rebel Rebel" by David Bowie entered the singles chart, reaching number five the following month.
1976, Florence Ballard of the Supremes died of cardiac arrest at age 32. Ballard was cut from the group in 1967 following such chart topping hits as "Baby Love," "Stop! In the Name of Love," and "You Can't Hurry Love."
1975, Scottish group The Average White Band went to number one on the US singles chart with "Pick Up The Pieces," the band's album AWB also went to the top of the US charts.
1977, Electric Light Orchestra performed at Cobo Arena, Detroit.
1978, The Police appear as blondes in an advertisement for Wrigley's chewing gum and decide to keep the look.
1979, Dire Straits played their first American show when they appeared in Boston.
1981, Rush played at Alumni Auditorium, Davenport, Iowa
1987, Andy Warhol, pop artist and producer died after a gall bladder operation. The founder of the Pop Art movement, produced and managed The Velvet Underground, designed the 1967 Velvet Underground And Nico "peeled banana" album cover and The Rolling Stones Sticky Fingers album cover.
1989, A category for Heavy Metal was included at the Grammy Awards for the first time. Metallica performed on stage, but the award went to Jethro Tull. Many audience members booed. Meanwhile, Bobby McFerrin won Record Of The Year and Song Of The Year for "Don't Worry, Be Happy," Tracy Chapman is named Best New Artist and Tina Turner won Best Female Rock Vocal Performance for Tina Live in Europe.
Born on February 22: Bobby Hendricks, The Drifters (1938); John Sparks, Dr. Feelgood (1953); and Scott Phillips, Creed (1973)