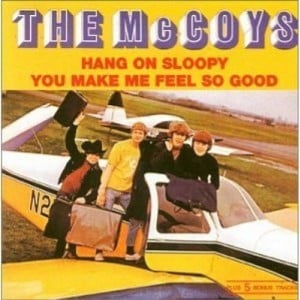 1965, The McCoys were at number one on the US singles chart with "Hang On Sloopy." It was number five in the UK when released on Andrew Oldham's new Immediate label. The song was first released by The Vibrations and called "My Girl Sloopy."
1967, All six members of The Grateful Dead were busted by California narcotics agents for possession of marijuana at the groups' 710 Ashbury Street House in San Francisco, California.
1970, Pink Floyd played the first of two dates at the Moore Theater in Seattle, WA. Also, their new album Atom Heart Mother album was released in the UK.
1970, Chicago played at the Civic Center in Charleston, West Virginia.
1971, Rod Stewart started a five week run at No.1 on the singles chart with "Maggie May / Reason To Believe", his first solo No.1. Stewart's album Every Picture Tells A Story also started a four-week run on this day at No.1 on the albums chart.
1971, The Allman Brothers Band appeared at the Whisky A Go-Go in Los Angeles.

1971, John Lennon's Imagine LP entered the album chart, where it eventually reached No.3.
1972, Led Zeppelin opened a six-date tour of Japan at the Budokan Hall in Tokyo. The set list: Rock and Roll, Over the Hills and Far Away, Black Dog, Misty Mountain Hop, Since I've Been Loving You, Dancing Days, Bron-Y-Aur Stomp, The Song Remains the Same, Rain Song, Dazed and Confused, Stairway to Heaven, Whole Lotta Love (medley including: Let That Boy Boogie, My Baby Left Me, Lemon Song, I Can't Quit You Baby), Heartbreaker, Immigrant Song, Communication Breakdown.
1973, The Rolling Stones performed at Ernst Merck Halle, Hamburg, Germany.
1974, Eric Clapton appeared at Maple Leaf Gardens, Toronto, Ontario.
1975, ZZ Top played at the Springfield Civic Center, Springfield, Massachusetts.
1976, Frampton Comes Alive begins its next to last week at number one on the USA album charts.
1977, The Grateful Dead played the second of two nights at the Paramount Theater in Portland, Oregon.
1977, The body of Elvis Presley and his mother Gladys were moved from the cemetery where they were buried to Graceland after an unsuccessful attempt was made to body snatch the coffin.
1978, AC/DC appeared at the Sports Arena, Toledo, Ohio.
1979, Van Halen performed at the Convention Center, Tucson, Arizona.
1980, Yes played at the San Diego Sports Arena, San Diego, California.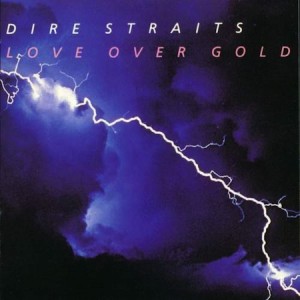 1982, Dire Straits started a four-week run at No.1 on the album charts with Love Over Gold.
1982, Jethro Tull performed at The Centrum, Worcester, Massachusetts.
1982, John Cougar started a four week run at No.1 on the singles chart with "Jack and Diane," his first No.1.
1982, Peter Gabriel and Steve Hackett joined their former band mates in Genesis for a one-time benefit performance at The Milton Keynes Bowl in Buckinghamshire, England to help raise money for Gabriel's WOMAD project (World of Music, Arts and Dance.)
1983, Welsh singer Bonnie Tyler was at No.1 on the US singles chart with the Jim Steinman written and produced track 'Total Eclipse Of The Heart'. It made her the only Welsh artist to score a US No.1.
1995, Oasis released their second album (What's The Story), Morning Glory, which entered the UK chart at No.1. The album has gone on to sell over 18 million copies worldwide, and it won the award for the best British Album of the last 30 Years at the 2010 Brit Awards.
1998, America's singing cowboy Gene Autry died aged 91. During his career he scored 25 successive Top 10 Country hits. In 1995 it was estimated he was worth $320 million.
2001, Actor Kevin Spacey hosted Come Together: A Night for John Lennon's Words and Music at New York's Radio City Music Hall. Performers included Alanis Morissette, Moby, Stone Temple Pilots, and The Dave Mathews Band. The evening was closed with those present singing "Give Peace A Chance."
2009, Mumford & Sons released their debut album Sigh No More in the UK. It peaked at No. 2 in February of 2011, in its 72nd week on the chart following its Album of the Year win at the 2011 BRIT Awards. In early 2011, the album peaked at No. 2 on the Billboard 200 in the US. In the United States, it was the 3rd most digitally-downloaded album of 2011, selling 761,000 copies.
2012, British session guitarist Big Jim Sullivan (born James George Tomkins) died at the age of 71. Sullivan started his career in 1959 as a member of Marty Wilde's band and when Wilde bought Sullivan a Gibson Les Paul guitar, it was allegedly the first in Britain. Sullivan taught future Deep Purple guitarist Ritchie Blackmore to play guitar, as well as helping Yes and Asia guitarist Steve Howe on his road to success. He was featured on 55 No.1 hits, and worked with George Harrison, Frank Zappa, Thunderclap Newman, Love Affair, Long John Baldry, Marmalade, and The Tremeloes. During Jimmy Page's session career, he was known as "Little Jim," to differentiate him from Big Jim.
Born on this day: Ron Meagher, The Beau Brummels (1941); Don McLean (1945); Richard Hell, The Voidoids (1949); Mike Rutherford, Genesis (1950); Sting (1951); Phil Oakey vocals, Human League (1955)