As technology has diversified, posted letters have become less important as a routine form of communication; they however still remain but in a modified forms like email.  The development of the telegraph around 1792 shortened the time taken to send a letter by transferring the letter as an electrical signal between distant points, which is sort of what we are doing this time on The Award Winning 3D RadioActivity, sending you two hours of great music about this form of correspondence and more.
Letters can be the collected correspondence of a writer or historically significant person.  It is a written message containing information from one party to another. The role of letters in communication has changed significantly since the nineteenth century. Historically, letters (in paper form) were the only reliable means of communication between two people in different locations.  Letters are still used, particularly by businesses, for official notifications. This is because of three main advantages:  No special device needed – almost everybody has a residence or other place at which he or she can receive mail; "Catch-all" advertising, more commonly known as junk mail; and Physical record – important messages that need to be retained, like invoices which them can can be kept relatively easily and securely.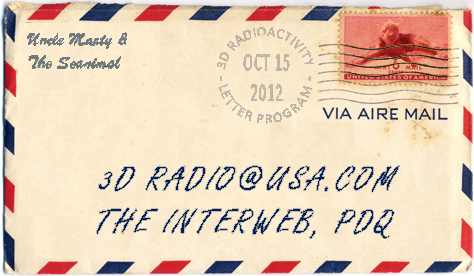 Additionally, a letter is part of the system of writing, such as the Greek or Russian alphabet and its descendants. Letters compose phonemes and each one represents a sound in the spoken form of the language.  Letters, as elements, have prescribed orders. This may generally be known though collation is the science devoted to the complex task of sorting of letters and words in different languages.  Here are some great examples  in a musical format.
[jwplayer mediaid="6355″]
We will be looking at numbers next time then give and take over the next two weeks for Halloween, sobe sure to let me know by visiting and liking The 3D RadioActivity on Facebook if you have any suggestions for the playlist, or click on my name below to send an email to me!
"It's not true I had nothing on, I had the radio on."
— Marilyn Monroe