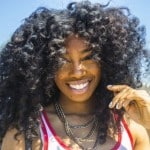 Pitchfork Music Festival 2014 – Day 1 by Eric Berman
It was an exceptional first day at Pitchfork Music Festival in Chicago.
Every year I go to this festival and come away with all kinds of new bands I would never otherwise have heard that become new favorites. Day one was no different with a great chill soul singer named SZA (Solana Rowe) who is part of Kendrick Lamar's Top Dawg Entertainment crew. Her debut album entitled "Z" came out this past April and I'm listening to it on Spotify as I type this.
Also amazing was Avey Tare's Slasher Flicks, an Animal Collective offshoot project, that was as wiggy and psychedelic as the mothership but with added guitar crunch. Other highlights of the day included Beck who opened with "Devil's Haircut" and performed no less than three tracks from the "Midnight Vultures" album which, judging by crowd reaction has surely grown in stature over the years. Giorgio Morodor's DJ set touched on almost all phases of his career as images of his protégé's, including Donna Summer, drifted on and off the screen. There was also the welcome return of Neneh Cherry (daughter of Jazz trumpeter Don Cherry) who performed much of her new album and, of course also performed her 1989 hit "Buffalo Stance." Another early highlight of the day was Factory Floor, an industrial dance band from London, England.