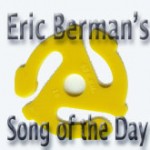 Song of the Day by Eric Berman – Top Albums 2014 from "The Alta Cocher Rocker"
So this is my 34th Top Albums of the Year list and occasionally I go back to the older lists that I still have and see if I am still as enamored about my picks now as I was then. For the most part I think the records that make my lists are pretty solid for their time and manage to have some staying power years later. There are, of course numerous instances of picks over the years that have me now asking myself "What the heck was I thinking?"
Nevertheless, these are indeed the greatest of times for music lovers. Never has so much music been at our disposal for unlimited listening pleasure. With dispensaries like Spotify, you have access to pretty much everything, instant playback 24-7. What more could a music lover want?
Now I fully admit that Spotify has changed my relationship with music. I am now exposed to much more music than I actually buy, and freed of the expense, I'm more willing to listen to stuff I probably wouldn't have paid much attention to in the past.
But I also believe that never before has physical product been more important, at least to me. I know, I'm totally old school, but I like the whole package with my music. The artwork, the liner notes, the credits and the lyrics…I want them all, and I want to hold them in my hand and preferably see them spinning on my turntable. They aid to the enjoyment of the music. They give the music an importance that a download never could. And the old argument, vinyl does sound better than the digital counterpart.
That said, this is the first year that I don't own physical versions of about half of the records listed. This is especially true of the recommended listening section which is comprised of records I found myself going back to many times throughout the year and are more than worthwhile of your attention if you're so inclined…
At any rate, listen to what you like, and I hope you'll be inclined to share your lists with me. Have a safe and healthy new year to all!
TOP ALBUMS 2015
Deerhoof – La Isla Bonita
St. Vincent – St. Vincent
Lost On The River – The New Basement Tapes
Afghan Whigs – Do To the Beast
TV On The Radio – Seeds
Spoon – They Want My Soul
Pharrell – G I R L
Tweedy – Sukierae
Ravonettes – Pe'ahi
Dave Alvin & Phil Alvin – Common Ground – The Songs of Big Bill Broonzy
Compilations/Reissues ("This one goes to 11")
Bob Dylan and The Band – The Complete Basement Tapes
Sleater-Kinney – Start Together
John Coltrane – Offering: Live at Temple University
Miles Davis – Bootleg Series Vol. 3: Miles At The Fillmore 1970
Wilco – Alpha Mike Foxtrot
Herbie Hancock – The Warner Bros. Years (1969-1972)
Beatles – White Album in Mono
Nilsson – The RCA Albums Collection
Sonny Rollins – Road Shows 2
Crosby, Stills, Nash & Young: CSNY 1974
Michael Jackson – Xscape
ALSO WORTH A LISTEN:
Alvvays – Alvvays
Beck/Various Artists – Song Reader
Benjamin Booker – Benjamin Booker
Black Keys – Turn Blue
D'Angelo & the Vanguard: Black Messiah
Flying Lotus – You're Dead
Freeman – Freeman (Aaron Freeman of Ween)
Jack White – Lazaretto
Jenny Lewis – The Voyager
Julian Casablancas & The Voids – Tyranny
Leonard Cohen – Popular Problems
Mary J. Blige – The London Sessions
Neil Young – A Letter Home
Neil Young – Storytone
New Pornographers – Brill Busters
Parquet Courts – Sunbathing Animal
Perfume Genius – Too Bright
Prince – ArtOfficialAge
Robyn Hitchcock – The Man Upstairs
The Roots – and then you shoot your cousin
Rudy Royston – 303
Ryan Adams – Ryan Adams
Sharon Jones & The Dap-Kings – Give The People What They Want
Stephen Malkmus & The Jicks – Wig Out At Jagbags
Tom Petty & The Heartbreakers – Hypnotic Eye
Tune-Yards – Nikki Nack
U2 – Songs Of Innocence