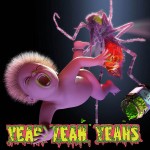 Yeah Yeah Yeah's last album It's Blitz was the group's most mainstream effort, garnering them a much wider audience than they previously had. In contrast, their latest album, Mosquito is much less dancefloor friendly and hearkens back to their earlier electro trash sound.
Although, the dense, layered atmospheric production makes the record initially far less satisfying than its predecessor, with repeated spins the songs begin to insinuate themselves and you begin to realize just how great this record is.
Yeah Yeah Yeahs consist of Karen O (aka Karen Orzolek) on vocals, Nick Zinner on guitar and Brian Chase on drums. Karen O met Chase while attending Oberlin College and the two formed an acoustic duo called Unitard. O transferred to New York University and met Zinner and the two formed a trashy downtown noise band. After adding Chase on drums, the Yeah Yeah Yeahs were born.
They began to gain notoriety by supporting the likes of The White Stripes and The Strokes on tour, and they released their self-titled debut EP in 2001. Their first full length album, Fever To Tell followed in 2003 and included the singles "Maps" and "Y Control," further establishing them with the hipsters as a cutting edge college band.
Their second album, Show Your Bones was released in 2006 and included the singles "Gold Lion" and "Cheated Hearts."  While Yeah Yeah Yeahs were by no means a mainstream band, their audience began to grow with each new release. After a stop-gap EP called Is Is was released in 2007, they garnered universal acclaim with their 2009 album It's Blitz. It was their most mainstream record, featuring the dance oriented singles "Zero," "Heads Will Roll" and "Skeletons" that garnered them radio airplay and a Grammy nomination for Best Alternative Album.
Karen O has one of the best voices in rock, and Today's Song Of The Day features a blissful sonic landscape that encases her enraptured vocals. It is clearly the most beautiful track the band has ever captured on wax, and its radiant beauty makes it stand out from the noise-filled din of the rest of the record.
The whole album has a dark atmospheric undertone and many of the songs plunge you into dramatic sonic soundscapes. "Subway" is underpinned by the ambient percussive click-clack sound of a subway train racing across track as O lays on a hypnotic vocal, and "Under The Earth" is buried in a dubby dance club drone.
With its choral crescendo, the album's opener "Sacrilege" is vaguely reminiscent of Madonna's "Like A Prayer."  While there are no surefire radio ready singles on the album, "These Paths" does come close to fitting the bill. However, it's the title track that flits around like a mosquito in flight as O howls "I'll suck your blood" over and over, that is the current single.
"Buried Alive" was produced by James Murphy (LCD Soundsystem) who creates a great vibe that is interrupted midway by an awkward and completely out of place rap courtesy of Dr. Octagon (aka Kool Keith). The album comes to a close on an intimate (for them) note with "Wedding Song" which O sang to her husband at their nuptials. It features O's most straightforward vocal on the album as she sings "In flames I sleep soundly/ with angels around me."
The albums features production by TV on the Radio's Dave Sitek, Nick Launay, and LCD Soundsystem's James Murphy, and while not as immediately accessible or satisfying as its predecessor, it does bear fruit to those whose ears are up for the harvest.