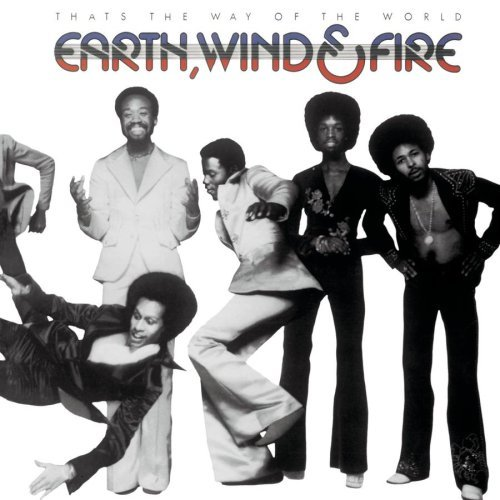 As a pimply-faced Jewish teen growing up in a predominantly white New Jersey suburb, my exposure to the black experience was extremely limited. Sure there was Soul Train on TV and disco music on the radio, but the few African-American kids in my middle school mostly kept to themselves.
At the same time, I volunteered at a hospital in predominantly black Newark, New Jersey where my mother was a nurse, and most of the African-American people I came into contact with were much older than me. Being a sheltered 14 year old, I was intrigued by their seemingly hip lifestyle, but knew little about their history or the way they experienced the same world that we shared.
Earth, Wind & Fire gave me an early inkling into the black experience with their Afro-centric kalimba-soaked mélange of jazz, funk and soul, combined with their use of astrological imagery and the funky threads they sported on their album covers. They were the real deal, and a great musical group to boot!
I remember purchasing That's The Way Of The World when it was a new release in 1975 from Vogel's Records in Elizabeth, New Jersey, which had the best selection of urban records anywhere in my area. I was already keenly aware of today's Song Of The Day, "Shining Star" from hearing it on the radio and had to have it.
The album topped the U.S. pop charts for three weeks and the R'n'B charts for five weeks in 1975, however, most people aren't aware that the album was actually the soundtrack to a film of the same name, starring Harvey Keitel as a record producer and Earth Wind & Fire as the group he produced. The film was a complete flop, but the album was a huge hit. In fact, it was Columbia Records' biggest selling album of 1975.
The group at this time featured the classic front line of Maurice White, Philip Bailey and Verdine White on vocals, with Larry Dunn on keyboards, Fred White and Ralph Johnson on drums and percussion, Verdine White on bass, Andrew P. Woolfolk on reeds and Al McKay and Johnny Graham on guitar. Their sound was typified by Philip Bailey's soaring soprano and White's soulful tenor, a dynamic horn section that injected the funk into their tunes, dazzling instrumental jazz workouts and lots of Kalimba (African thumb piano) interspersed throughout. Their albums also had interesting instrumental interludes between the songs as well.
"Shining Star" was written by Maurice White, Larry Dunn and Philip Bailey, and it won a Grammy for Best R&B Performance by a Duo or Group with Vocals. It was one of the group's funkiest recordings with its flying horns and tightly wound rhythm guitar patterns, but the song's end is the real grabber as the band repeats "Shining Star for you to see, what your life can truly be" three successive times, each one with instruments dropping out leaving the last time completely a cappela bringing it to an abrupt cold dry ending.
On the album, the song immediately bumps up against the beginning of the title track to the album, which is one of their all-time greatest ballads. The whole sequence conjures the type of drama and excitement that only EWF were capable of. ("Shining Star" also holds the distinction as the song used in the classic Seinfeld episode where Julia Louis Dreyfus' Elaine unleashes her spastic dance.)
Another incredible track on this album is "Reasons" which was a vehicle for Bailey's soaring falsetto, especially on the live version from the Gratitude album. While it never charted as a single, it is considered one of EWF's signature songs and appears on several of their Greatest Hits albums. The horn-pierced funk of "Yearnin' Learnin'" and "Happy Feeling" keep the good times going, while "All About Love" features a wigged out instrumental interlude at the beginning and end of this deep soul ballad. "Africano" is a jazz-funk instrumental similar to what the band cut its teeth on in their earlier albums, featuring a blazing sax solo courtesy of Andrew Woolfolk.
The group went on to release a string of indelible singles throughout the 1970s including "Sing a Song" (#5 pop/#1 R&B), "Can't Hide Love" (#11 R&B), "Getaway" (#12 pop/#1 R&B), "Saturday Night" (#4 R&B), "Serpentine Fire" (#13 pop/#1 R&B), "Got To Get You Into My Life" (#9 pop/#1 R&B), "Fantasy" (#12 pop), "September" (#8 pop/#1 R&B), "Boogie Wonderland" (#6 pop/#1 R&B) and "After The Love Has Gone" (#2 pop/#2 R&B), and over the years they've sold over 90 million albums, performed at The White House, have won numerous Grammy and American Music Awards and are members of The Rock and Roll Hall Of Fame.
But it was their jubilant sound that gave me insight into a world I barely knew existed back in 1975. Earth, Wind & Fire still continue today and just released a brand new album last week called Now, Then and Forever.