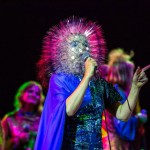 Editor's note: This article appeared originally in July 2013
With the impending threat of massive thunderstorms due to lower the temperature from 97 to the low 80s, my fourth Pitchfork Music Festival got off today with three great sets by Mac Demarco, the legendary industrial punk  band Wire and the main reason to go to Pitchfork this year, a rare set by Iceland's favorite star Bjork.
Normally when I go to Pictchfork, I like to shop around for sounds from stage to stage in an effort to hear as many different bands as possible. But with Wire and Bjork playing on the same stage, we decided to go directly to that stage and remain there for most of the afternoon seeing three complete sets from a prime advantage up front and center while hearing the music from the opposite stage during down times.
Mac Demarco is a Canadian singer/songwriter who comes off like a good-time Ben Folds with a goofy smile and funky rhythm guitar sound. What sets him apart from many in music today is his very real sense for melody and song craft as evidenced by originals like "Cooking Up Something Good" and "The Stars Keep Calling My Name" from his latest album Mac Demarco 2.
Equally endearing are the hilarious piss take covers he and his eager band spontaneously launch into like BTO's "Takin' Care Of Business," Metallica's "Enter Sandman," Eric Clapton's "Cocaine" and a hard-core run-through of The Beatles' "Blackbird." As a relative old-timer compared to the many 20-somethings around me, it's a gas to see that indeed classic rock isn't dead after all.
Probably the most veteran and influential band on this year's entire Pitchfork bill is Wire. Wire originally formed in 1976 and has been recording on and off (give or take 5 or 10 years) since its inception. Their classic 1977 debut album Pink Flag is considered one of the most original albums to come out of the British punk scene according to Allmusic.com.
The current lineup includes original members Colin Newman, Graham Lewis and Robert Grey (aka Robert Gotobed) with touring member since 2010 Matt Simms. The group played songs from their latest album Change Becomes Us (released earlier this year). The album consists of reworked versions of unfinished songs circa 1979-1980, and the group shot through their 45 minute set like the young punks they once were.
After much anticipation, Bjork took the stage wearing a huge quilled helmet headdress with a metallic gold dress, sparkly black tights and silver reflecting disco ball shoes. Joining her on stage was a harem of vestal virgins/12-piece female choir dressed in colorful hoodie robes and dresses who stood huddled in the center of the stage gyrating to the music while adding celestial backing vocals.
You don't have to tell me that Bjork is an acquired taste; I know that she's not for everyone. But I acquired the taste when Bjork was a member of Sugarcubes in the mid-1980s and have followed her career ever since.  I enjoy her albums and have wanted to see her perform in person for many years.
Her performance didn't disappoint. She's a deliberate singer with charisma and a heck of a powerful voice which she uses to command the audience as she moves from one side of the stage to the other looking directly into the audience. Her set included several songs from her last album Biophelia including "Crystalline," "Thunderbolt" and "Moon," as well as today's Song Of The Day "Hidden Place" from her 2001 masterpiece, Vespertine.
Unfortunately, 65 minutes into her set, the threat of thunderstorms became a real concern and the powers that approached Bjork between songs to tell her that she would have to leave the stage. When she made the announcement to a chorus of boos, she remarked that "they don't do this in Iceland…"
It was a good call; we no sooner reached our car when the skies opened up with some of the most vivid lightning I've seen in a while, making me think that perhaps it was all in response to the artistry of Bjork.