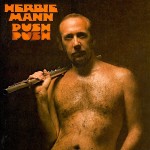 Herbie Mann was already ten years into a career that established him as a purveyor of Afro Cuban Jazz, Latin Jazz and Bossa Nova music by 1971 and the release of his album Push Push.
Mann had released albums for Bethlehem, Prestige, Epic, Verve and Savoy, before signing with Atlantic Records in 1962 where he would release numerous records over the next eight years that established him as the premiere flautist in all of jazz. While at Atlantic, Mann worked with a whole host of influential percussionists and instrumentalists like Ray Barretto, Michael Olatunji, Sergio Mendes, Antonio Carlos Jobim, Bill Evans and Chick Corea, while stretching the very boundaries of Jazz to include elements of world music.
By the late '60s, influences from the soul and rock scene began to seep into Mann's repertoire and he went down south to Memphis to record with producer Tom Dowd and the folks at Stax Records. In 1970, Mann founded his own Embryo Record label (a subsidiary of Atlantic Records by way of Cotillion Records) as an outlet for him to release his own albums and those of artists he felt were worthy.
Today's Song Of the Day is the title track from Mann's second Embryo release, Push Push. Once you get past the creepy and somewhat offensive cover image (I guess this passed for sexy back in 1971), and the raised velvet image of a copulating couple on the inside of the gatefold, you were treated to one of the premiere jazz rock recordings of all time.
For one,  Mann's backing group included some of the greatest jazz and soul session men of the time, including Cornell Dupree and David Spinozza on guitar, Richard Tee on piano and organ, Chuck Rainey, Jerry Jemmott and Donald "Duck" Dunn on bass, Bernard Purdie and Al Jackson, Jr. on drums and Ralph MacDonald on percussion. And, with the exception of one track, all of the guitar solos were played by Duane Allman, in what was his last session.
The album includes several Mann originals, including the title track, plus covers of Aretha Franklin's "Spirit In The Dark, " Marvin Gaye's "What's Going On ," Ray Charles' "What I'd Say," Bread's "If" and the Jackson Five's "Never Can Say Goodbye."
To show you where Mann's head was at, in the inner gatefold he plainly states that "Marvin Gaye's album What's Going On is the best album of the year!!" Even back then, they already knew what they had.